News
A Prescription for Global Healing
Even for medical anthropologist and physician Paul Farmer, known around the world for his work with the poor, the results of his efforts are sometimes astonishing.
In 2006, after only two years of integrated community health work in Rwanda, a country devastated by genocide in 1994, Farmer's Partners In Health (PIH) collaborative saw the steepest decline in maternal and child mortality ever recorded in any nation.
His prescription for success is simple: poverty should never pose a barrier to life-saving health care, no matter where it's found.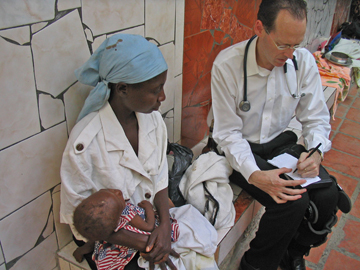 "The idea that you would deny people access to care based on their poverty is not something that you hear regularly in the teaching hospitals here, but it is a dominant trope in public health today, and especially so in settings of poverty," said Farmer, chair of the Department of Global Health and Social Medicine at Harvard Medical School.
Farmer is a founding director of Partners In Health, an international nonprofit organization that provides direct health care services and undertakes research and advocacy activities on behalf of those living in poverty.
Farmer's passion for providing world-class health care to the world's poorest people has led him from working in a one-room clinic in Haiti's central plateau to building a global network of some 75 hospitals.
The network is woven together through deep partnerships with the teaching hospitals of HMS, with national ministers of health in countries such as Rwanda, and with community health workers in villages from Peru to Siberia.
Working together
The Kolokotrones University Professor at Harvard University and a 2003 MacArthur Fellow, Farmer has devised a blueprint for improved child health care delivery based on collaboration and his experiences in Haiti and Rwanda and around the globe.
Farmer acknowledges there are great challenges to providing quality care for individual patients while also building national-scale health systems, but speaking at a Blackfan Lecture at Boston Children's Hospital on May 30, 2012, he emphasized that collaboration—the efforts of medical students and physicians and other colleagues working together—is what has helped him realize his ambitious goals, such as bringing nearly universal access to antiretroviral treatment for AIDS to Rwanda.
The basic model is simple, he said. Community health workers accompany chronically ill patients in their homes and villages, collaborating with clinics and hospitals that can provide oversight for long-term treatment and critical care when complications arise.
The community health workers, known as accompagnateurs, work with those suffering from HIV and TB, as well as other chronic conditions, in rural Haiti and Rwanda. They also help patients manage their medications and monitor them for signs of secondary infections and other problems.
"That, we would argue, is the highest standard of care that we have to offer for chronic disease in modern medicine," Farmer said.
To illustrate the success of this approach, Farmer showed before-and-after photos of a patient who presented with HIV and drug-resistant TB.
"He goes from looking like Skeletor to needing Lipitor," Farmer said. "My medical students are getting tired of that joke, but I'm not."
Integrating vertical and horizontal
Farmer also talked about ways to leverage different kinds of enthusiasm and energy to build broad platforms for health.
Funding is often available for vertical programs, he said, referring to programs focused on improving outcomes for a specific problem like HIV, TB or maternal mortality. PIH's approach, however, has been to integrate the funds for vertical initiatives into overall efforts to improve health delivery, Farmer said.
If his group receives a grant for family planning, Farmer said, they will build a women's health clinic to not only provide family planning, but also help women meet all of their health care needs.
Using the same approach, the group is building on efforts to prevent maternal mortality by also building surgical infrastructure in rural settings. If clinics or rural hospitals can perform surgery to prevent mothers' deaths from obstructed labor, they can also provide for many of the other surgical needs of the community, he said.
"You don't build a clinic that's just for HIV, because people have other problems," Farmer said. "When you open the doors of your clinic, they come in."
For the last 15 years, Farmer has been trying to find ways to use these "vertical enthusiasms" to strengthen broader platforms, such as child health initiatives, and to make sure that patients don't die what the Haitians call "stupid deaths," Farmer said.
Farmer says that there are three key elements to the approach. First, from the moment they arrive, PIH workers provide care to the sick. Second, they improve the existing health care infrastructure, often rebuilding abandoned hospitals. Third, they train local colleagues to provide care.
In addition to providing care on the ground, these local trainees can also help spread the model. In the past decades, hundreds of Haitians were trained and they now provide an excellent resource for launching new PIH operations in Rwanda, Farmer said.
Overwhelming support
Attendance at Farmer's lecture seemed to illustrate a growing interest in and public support for global health initiatives. The Folkman Auditorium was filled beyond capacity, with crowds standing in the aisles and groups watching his talk on a live video feed in adjacent rooms and in a PIH hospital in Rwinkwavu, Rwanda.
 "I'm a little bit overwhelmed by the number of people who showed up," said Farmer, who added that the crowds would have been unthinkable 30 years ago when he began his work.
The turnout was "a testament to our wonderful speaker and to the increasing interest here at the hospital in global health and in the role that child health providers can play in improving the lives of children around the world," said Judith Palfrey, T. Berry Brazelton Professor of Pediatrics and director of the global pediatrics program at Boston Children's Hospital, who introduced Farmer.
Palfrey quoted Tracy Kidder's biography of Paul Farmer, which included the following passage from T.S. Eliot's "Dry Salvages":
And right action is freedom
From past and future also.
For most of us, this is the aim
Never here to be realised;
Who are only undefeated
Because we have gone on trying
"Paul Farmer is an extraordinary teacher, a visionary and an inspiration to young and old alike. But he's also something more. He is someone who acts and never stops, who believes deeply that tough problems—problems like HIV, multidrug-resistant TB, malnutrition and cholera—have solutions, solutions based on hard work, perseverance, respect and partnership," Palfrey said.
After the 2010 earthquake that devastated Haiti, PIH decided that that one of the ways they would respond was to build a major medical center in rural Haiti, Farmer told the crowd of medical students, nurses, doctors, staff and other enthusiastic supporters of global health. 
 "This hospital is already up and it's waiting for you," Farmer said.
The nationally recognized Blackfan Lecture is held in honor of Kenneth Blackfan, who served as Boston Children's fourth physician-in-chief. The Lecture is sponsored by the Children's Hospital Alumni Association.
Follow
HMS
Stay informed via email on the latest news, research, and media from Harvard Medical School.