News
Pierce Honored with Friedman Professorship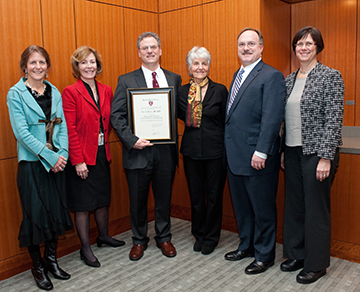 Eric A. Pierce, MD '90, PhD, director of the Ocular Genomics Institute and associate director of the Berman-Gund Laboratory for the Study of Inherited Retinal Degenerations at Massachusetts Eye and Ear Infirmary (MEEI), has been named the inaugural incumbent of the Solman and Libe Friedman Professorship in Ophthalmology at Harvard Medical School.
Pierce was honored with the professorship at a ceremony in the New Research Building on February 12 in recognition of the contributions he has made as a leader in the field of ophthalmologic disease, particularly in the area of retinal degeneration.      
Pierce's research focuses on ways to develop better therapies to prevent vision loss. He focuses on improving the understanding of the molecular bases of inherited retinal degenerations and the mechanisms by which mutations in these genes lead to blindness. His goal is to develop more effective therapies to prevent vision loss.
"It is fitting for this milestone in Eric's ophthalmology career to take place here, as this is where it first began," said Nancy Tarbell, HMS dean for academic and clinical affairs, at the professorship ceremony.
A 1990 graduate of Harvard Medical School, Pierce completed his residency at HMS and MEEI, and his fellowship at Boston Children's Hospital, where he received his first faculty appointment. Pierce was recruited in 1999 to the F.M. Kirby Center for Molecular Ophthalmology at the University of Pennsylvania's Perelman School of Medicine, where he researched retinal degenerations. He became a member of the Division of Ophthalmology at Children's Hospital of Philadelphia and attained an appointment as associate professor of ophthalmology. Pierce was welcomed back to Boston in 2011, when he was brought on board at MEEI to direct the Ocular Genomics Institute.
The professorship bears the names of the parents of Ephraim Friedman, MD, a former president of MEEI who, together with his sisters, established a foundation to honor their legacy. The Friedman Professorship was established through the generosity of the Solman and Libe Friedman Foundation and the MEEI Board of Directors.
Follow
HMS
Stay informed via email on the latest news, research, and media from Harvard Medical School.