News
Personal Genetics and the Law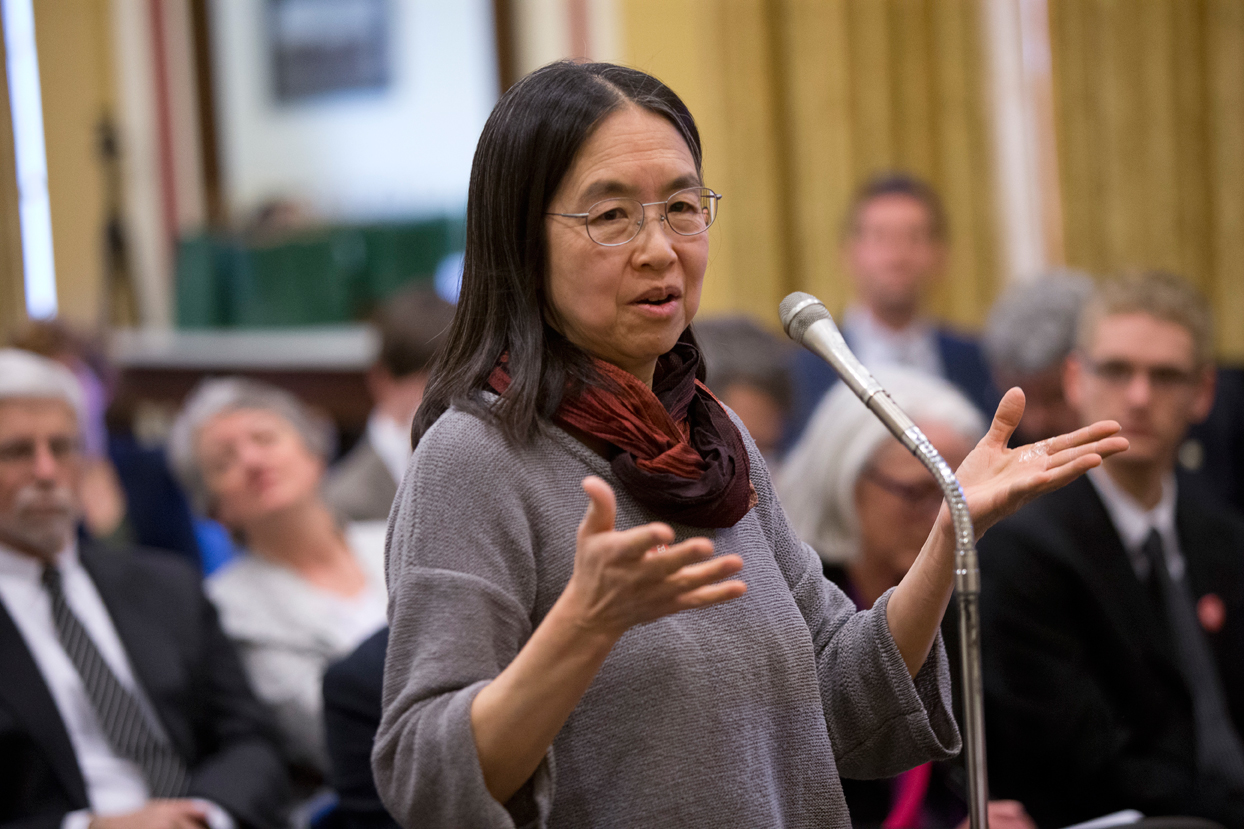 The need for a better understanding of personal genetics has never been more urgent. That was the message an expert panel of speakers relayed in a Congressional briefing on the intersection of personal genetics and law enforcement.
"There is no time to lose," said Lauren Tomaselli, director of curriculum and training for the Personal Genetics Education Project (pgEd) at Harvard Medical School, citing a recent appeal to the Supreme Court on a ruling that allows a person's DNA to be collected and tested without their knowledge or permission. The case was declined by the court.
The pgEd leaders organized the March 19 briefing on Capitol Hill in cooperation with the offices of U.S. Rep. Louise Slaughter, D-N.Y., and Sen. Elizabeth Warren, D-Mass.
The mission of pgED is to educate young people through school programs and to accelerate public awareness of genetics issues by advising the entertainment industry. It also seeks to engage lawmakers—the "eyes and ears of the nation"— in discussions.
pgEd takes no position on policy, preferring to educate from a neutral position so that its audience can make better-informed decisions.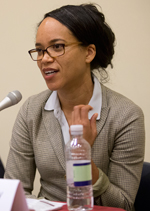 At the briefing, Duana Fullwiley, associate professor of anthropology at Stanford University, said in some cases genetic technologies that are being utilized by the U.S. criminal justice system are leapfrogging not just public understanding but also peer-reviewed scientific evaluation.
One case in point: DNA phenotyping, a tool that generates the image of a human face based on genetic samples that have been taken from a crime scene.
Police in Columbia, South Carolina, recently relied on such an image provided by Parabon NanoLabs as they searched for suspects in a double murder.
The science behind this service, called Snapshot, has not been analyzed by people outside the company, Fullwiley said.
She criticized the database on which Snapshot is based for two reasons, saying it skews toward an over-representation of African-Americans and its results offer a false sense of precision.
Focusing on a single type of suspect can implicate a whole group, she said, citing the generic image of a young man with dark hair, eyes and skin.
"When, as a society, we are already dealing with racial bias in policing and civil rights, we have to be very careful about rolling out technologies that can potentially have racial impacts that are disparate for different groups," she said.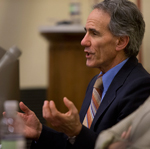 David Kaye, associate dean for research at Penn State Law, said DNA screening in criminal investigations is often racially based because it relies on witness accounts.
He asked, "If you use the information at your disposal, is it truly discriminatory?" 
Courts have also allowed involuntary collection of genetic samples, even through subterfuge, he said. 
For example, he said detectives duped a suspect into replying to a letter that offered money via a class-action suit. DNA that was recovered from the paper form was returned to a fabricated law office created by the detectives. In another instance, he said a case was built against a serial killer based on DNA retrieved from his daughter's Pap smear.
The Microbe Question
Claire Fraser, director of the Institute for Genome Sciences at the University of Maryland School of Medicine, explained how microbial DNA might one day be used for forensic purposes. Her past work identified genetic mutations in anthrax spores in the deadly 2001 anthrax mailing.  That laid the foundation for the new field of microbial forensics.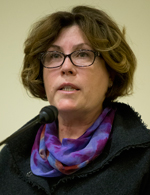 "Mother Nature is the best bioterrorist," she said, using SARS, Ebola and West Nile virus as examples.
The microbes we carry with us, collectively known as our microbiomes, could potentially be used as identifiers, she said, but added that that day is far in the future.
Henry Greely, director of the Center for Law and the Biosciences at Stanford Law School, said he worries about the ethnic disproportion in the database of 11 million records now held by federal and state law enforcement.
"There is a much higher chance for a black American than a white American" to be implicated by a family member's DNA sample, he said. "That's troubling."
While it would be politically difficult, Greely said, he would prefer to see a system in which all Americans would have their samples included in a federal database, making it more representative of the nation. He did concede that privacy could be a problem. If privacy were breached, he said, public trust in law enforcement and in genetics would suffer.
Genetic Privacy Rights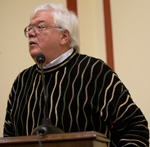 Slaughter is a longtime champion of genetic privacy, having sponsored a bill that in 2000 became the Genetic Information Nondiscrimination Act, also known as GINA. She was introduced at the briefing as "the only microbiologist in Congress."
"GINA was all about privacy," she said, recalling the battle for its passage. "We wanted to make sure that the social policy kept up with science, but science fiction intervened. Everybody thought we were talking about cloning." 
Protecting genetic information in the workplace and for insurance purposes is still an urgent issue, Slaughter said.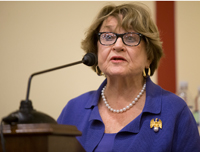 "Your genetics belongs to you and the information is yours," she said to applause from the audience, which included congressional staffers as well as people from the U.S. Department of Justice, the FBI, the National Institutes of Health, the American Society of Human Genetics and the American Association for the Advancement of Science.
In the discussion that followed the speakers' presentations, Ting Wu, HMS professor of genetics and a founder of pgEd, asked if somehow racial discrimination could be minimized.
"Obviously it's a problem," she said. "We can think of Ferguson and see where that goes."
Wu, who founded pgEd in 2006, said she feels a deep responsibility to educate people about genetics. She has said it's not a choice but a necessity.
In an interview after the briefing, George Church, the Robert Winthrop Professor of Genetics at HMS, raised the issue of "DNA exceptionalism," in which genetic tools are seen as different from other modalities, and not just in jurisprudence.
In medicine, for example, gene therapy is viewed as an extraordinary category of treatment.
The pace of public understanding and scientific advancement are not moving in step, he said.
"We have a long way to go, but that's because genetics is a moving target," Church said.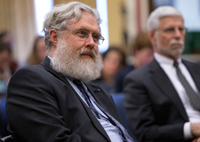 Samantha Schilit, a pgEd affiliate and a graduate student in genetics, said she hopes to pursue personal genetics as a genetic counselor. She attended the briefing as a guest of pgEd after winning a contest in her department to add the most pins to Map-Ed, an online quiz on key concepts and topics in genetics.
"What shocked me is how truly new these topics are," she said, citing the DNA phenotyping news from South Carolina in February.
Schilit said she is uneasy about the possibility that information gathered by a direct-to-consumer company, for example, could find its way into a forensic investigation, a possibility that was raised by Greely.
"These issues are ethically complicated," she said. "This field is moving so fast."
The briefing was the third of five planned by pgEd. The first briefing highlighted the science of genomics, personalized medicine and genetic engineering as well as ways to reach out to the public. The second briefing focused on two topics: the role of genetics research in the unfolding Ebola outbreak in West Africa and the issues addressed by GINA. The third briefing on law enforcement grew out of topics touched on in the first two.
pgEd is supported by the HMS Department of Genetics and private funding from Sigma-Aldrich, Autodesk, Genentech, IDT (targeted specifically for GETed conferences and Map-Ed), and an anonymous donor.
Follow
HMS
Stay informed via email on the latest news, research, and media from Harvard Medical School.