News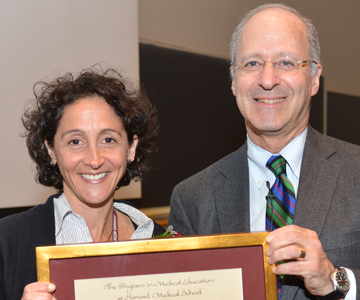 What does the music of ABBA have to do with the study of nephrology?
Although many people would be hard-pressed to make the connection, Harvard Medical School students may likely respond with a quick smile and a visual image of a teacher dressed in full ABBA regalia belting out "Kidney Queen" to the tune of "Dancing Queen."
The teacher is Melanie Hoenig, HMS assistant professor of medicine at Joslin Diabetes Center and the recipient of the HMS 2013 Donald O'Hara Faculty Prize for her leadership and teaching in the second-year course Human Systems: Renal.
Hoenig was not the only educator recognized for excellence recently at the 2013 Daniel D. Federman teaching awards celebration. Her colleague Wolfram Goessling was also honored with the O'Hara prize, and Alexander Carbo, professor of medicine at Beth Israel Deaconess Medical Center and Marie-Louise Jean-Baptiste, assistant professor of medicine at Cambridge Health Alliance, were recognized with the Charles McCabe Faculty Prize for Excellence in Teaching. H. Frank Bunn research director of the Hematology Division at Brigham and Women's Hospital, Robert Novelline, HMS professor of radiology at Massachusetts General Hospital, and Jeremy Schmahmann, HMS professor of neurology at Mass General, were honored with the Harvard Medical School Special Faculty Prize for Sustained Excellence in Teaching. Learn more about the awards and recipients here.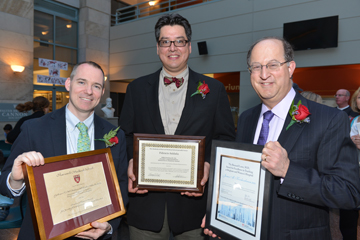 Hoenig acknowledges that her approach may seem a bit unorthodox, but said she likes to begin her courses in a stimulating, unique way to get off on the right foot with her classes.
"I like to start the course with an inspirational charge," said Hoenig. "I have done several different things over the years, but about six years ago, I started singing. By doing this, I think I show that I am vulnerable but zany and ready to take a chance. Some students like it, some think I may be a little unprofessional, but I do look forward to the course all year long, so it is really hard to contain myself when it finally starts." 
Hoenig's passion for nephrology is both difficult to contain and contagious.
"I am passionate about nephrology. I was always drawn to this material, albeit a little intimidated. When I discover an aspect that I understand well, I just want to find a way to share it. Plus, I love a good story and there are so many exciting ones in this field," said Hoenig.
These qualities have clearly resonated with Hoenig's students.
"She is an entertaining and lucid lecturer who got us rollicking with her original 'Nephron Song' and delivered on the song's promise to get us to 'learn about the nephron' with great teaching sessions," said student Debbie Teodorescu.
 "She is not only exceptionally brilliant at communicating some of the most difficult content in the preclinical curriculum, but also fiercely devoted to the education of her students," said student Simin Gharib Lee in a letter supporting Hoenig's nomination.
Hoenig finds continual sources of inspiration and motivation for her teaching in each new class of HMS students.
"Teaching can be humbling, and yet a difficult question can bring us all toward new heights. Each year, I find that I learn something substantively new that I never previously truly understood. Students push us to find our vulnerabilities and then we can regroup and make ourselves whole again," she said. 
Follow
HMS
Stay informed via email on the latest news, research, and media from Harvard Medical School.