Like No Other
HMS, HSDM Class of 2024 faces unique challenges, opportunities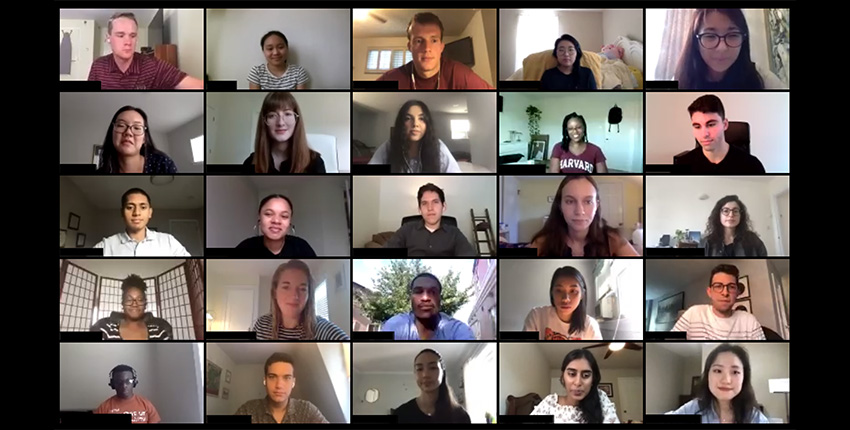 Because of the COVID-19 pandemic, Harvard Medical School held the White Coat ceremony virtually to ensure the health and safety of the HMS community.
"Your journey here begins in extraordinary times," said Dean George Q. Daley, acknowledging the uncertainty, and even anxiety, that this year's incoming Harvard medical and dental students may be feeling as they begin their studies remotely this month, in the midst of a global pandemic.
Daley's remarks came during his welcoming address to members of the Harvard Medical School and Harvard School of Dental Medicine Class of 2024 on Aug. 3. Gathering via teleconference, they were joined by fellow classmates located all around the world.
Edward Hundert, HMS dean for medical education, talked about how the students were beginning classes during not only the worst global public health crisis since the flu outbreak of 1918, but also the worst looming economic crisis since the Great Depression and the worst racial crises in the U.S. since 1968.
But these challenges will give the Class of 2024 a chance, "more than any class in recent memory," Hundert said, "to make an impact in public health and to address disparities."
The first-year medical and dental students are the only class in the School's history to begin their studies remotely. Most second- through fifth-year students who live off campus will be returning in person to pursue hands-on clinical rotations and laboratory research studies.
"In the face of the ongoing pandemic, we have taken unprecedented measures to protect the health and safety of you and the community to which you now belong, including initiating your medical education here virtually," Daley said.
Because students, faculty and staff weren't able to sit next to one another in the Walter Amphitheater, as they would normally do on the first day of their medical and dental school careers, Fidencio Saldaña, HMS dean for students, invited the attendees to scroll through the video screens to become acquainted with the nearly 250 participants on the call to get to know their faces and names.
A virtual White Coat Ceremony, where family and friends gathered online to get to know the incoming class, was broadcast on Friday, Aug. 7, at 1:30 p.m., and can be viewed here.
Saldaña's advice to the entering class was to work hard, for their faculty, for their colleagues, but most importantly, for their future patients.
Wealth of diversity
The majority of the HMS and HSDM Class of 2024 are women. Of the 168 incoming HMS students, 101 are women and 67 are men. In the entering HSDM class of 35 students, 22 are women and 13 are men.
Faculty Associate Dean for Admissions Robert Mayer told the new students that the HMS students come from 35 U.S. states and six countries, with 21 percent from groups underrepresented in medicine, 38 percent Asian and 14 percent self-reporting as LGBTQ on the HMS secondary application. HSDM students come from 17 states and 4 countries, with 36 percent from groups underrepresented in medicine.
Having a diverse class is about developing relationships with, and learning from, the experiences of individuals who are from different economic backgrounds, of different races and express different genders and sexuality, said Hundert.
"It's important to the mission of HMS to promote well-being for all," he said.
Andrea Reid, associate dean for student and multicultural affairs at HMS, said her team works to promote a culture of care and success for all students.
"We're here to support individual students … and to advance the cause of diversity across the medical school," she said.
The School is developing an antiracism longitudinal curriculum, and the first class in the series was held on Aug. 4 during the incoming students' first week. The goal is for students to develop the knowledge and skills that will prepare them to practice antiracism throughout their training and into their careers.
Course objectives include reckoning with the history of racism within U.S. medical institutions and learning how to integrate active antiracism practices into their work as part of their professional responsibility as physicians.
The makeup of the class reflects a wide range of academic interests and backgrounds, with the majority of students having taken one or more gap years: 73 percent of HMS students and 34 percent of HSDM students have pursued other interests during the gap between college and medical or dental school.
Two students are entering HMS with doctorate degrees and 24 have master's degrees, while 25 HSDM students have research experience and 6 have published papers.
'Awesome responsibility'
Daley said it was an honor that the incoming students had chosen to bring to HMS and HSDM "your many talents, your diverse backgrounds and experiences, your dedication and passion for helping others."
"Knowledge is, in many ways, powerless without compassion, empathy and trust," Daley said.
For that reason, he said, the breadth of experience and backgrounds the class represents will serve them well as healers.
Daley added that it is "crucial to approach medicine with humility" because physicians have the privilege and "awesome responsibility" to help others when they are most in need, most vulnerable.
In his welcome, incoming HSDM Dean William Giannobile told students he looked toward a future of learning together.
"You will also quickly see the many opportunities that await you in your dental and medical education—cutting-edge training opportunities in the rich environment of the Longwood Medical Area, the hospitals, the research labs, the Forsyth Institute and the surrounding environs."
"While we are together remotely for the short term, we are so looking forward to the time when you will join us on campus and experience this in person."
Compassionate care
On Aug. 5, students attended their first patient clinic. It too was virtual—a telemedicine conference where they met their first patients on screen.
Joanne Guarino, a patient who was homeless and now serves on the board of the Boston Health Care for the Homeless Program, shared her story with the students. She was joined by her physician, James O'Connell, HMS assistant professor of medicine at Massachusetts General Hospital and president of BHCHP.
The students also met Barry Nelson, a lung cancer survivor and patient of Christopher Lathan, HMS assistant professor of medicine at Dana-Farber Cancer Institute.
Nelson, who is Black, said he was undergoing standard chemotherapy and radiation treatments at a different hospital when he asked for a meeting with his treatment team for an explanation of the treatment plan.
He said he was told by a doctor that he was wasting their time and that he was going to die anyway. Nelson said he felt the doctor's comment was driven by racism—similar to other situations he has faced all his life.
He said he returned to Lathan, who had given him an initial second opinion on his course of treatment. Lathan agreed that it was the correct course and took the time to explain the plan.
Even though Lathan didn't make any promises that the treatment would be successful, the difference, Nelson said, was that Lathan and his team treated him with dignity and respect. They also told him that they would fight for him as hard as he would fight for himself, he said.
When standard courses of treatment failed, Nelson's doctors tried an approach that was brand new at the time—immunotherapy. He was introduced to Gordon Freeman, the HMS scientist at Dana-Farber whose lab developed the new immunotherapy protocol. Nelson told the students that his story is one of "faith, health care and science."
The students had many questions for Guarino and Nelson about how to communicate with patients if they were homeless, on drugs, or lacking resources or insurance. And they asked for the best way to broach sensitive topics, such as the possibility that a treatment might not work.
Hundert, who was moderating the session, said giving a patient one's full attention is critical. He said the School will teach the students, through classes, research and practice, how to develop their patient-relation skills—even how to deliver bad news, which they will learn to do with empathy, he said.
"Compassion is the key. If you don't have it, you're not going to be a good doctor," said Guarino.
Hundert closed the session quoting from Francis Weld Peabody's essay, "The Care of the Patient."
"The secret of the care of the patient is in caring for the patient."
Introductions, please
HMS and HSDM students are assigned to one of five academic societies that become their home base while they are in the School—a place where they can seek academic and career advising but also find camaraderie with their peers.
This year, instead of gathering with their societies in a classroom for lunch, each society held individual video calls, gathering the students together to meet their advisory deans and introduce themselves.
View the photo gallery below of the society gatherings.