News
New Clinical Skills Center Opens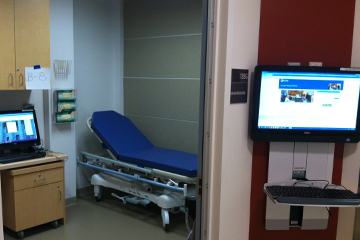 In many ways, the stately, white marble buildings around the Harvard Medical School quadrangle don't look any different today than when they were first erected in 1906, but visitors can now walk into one of them – the Tosteson Medical Education Center – and be transported into the 21st century.  
"This new center will go a long way to advancing the educational experience of all our students," said Dean Jules Dienstag, the Carl W. Walter Professor of Medicine and dean for medical education. "It's the result of a tremendous collaborative effort and a credit to everyone who worked so diligently to make it a reality."
In less than a year, the new Clinical Skills Center at HMS has materialized in a ground floor wing of the TMEC building, its gleaming halls stretching beyond etched glass doors emblazoned with the lion rampant from the HMS shield.
The center will be used for both teaching and assessing clinical communication and physical exam skills, and it will be the site in which students take their multi-station Objective Structured Clinical Exams (OSCEs).  Faculty will also use the center to develop clinical teaching skills.
"We wanted it to not look too clinical," said Jane Neill, associate dean for medical education planning and administration, and a driving force behind the new center. "We worked with the architects to make it flow, given the constraints of the building."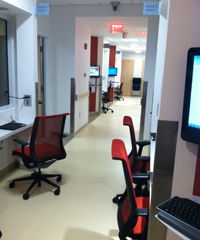 The area to be transformed into the new center space was selected a little more than a year ago, in February 2012. A committee approved plans in a mere six months and construction on the $5 million facility began in February 2013.
A comfy niche with upholstered seating, where students can gather to compare notes, now occupies space once taken up by a cold room. Frosted glass walls separate several new classrooms, and well-lit hallways, some painted crimson and blue, wind through the 7,500-square-foot facility.
The space features 18 clinical exam rooms, including 10 with retractable walls; three orientation rooms that can accommodate up to 20 people each; and a central room housing monitors and controls for 47 cameras that will be used for observation and videotaping during exams and classes.
The complex wiring alone required detailed planning and coordination.
"You can see all the technology. It's been very complicated and a huge team effort involving IT and Media Services," said Neill.
Wireless simulation mannequins are stacked neatly in closets near exam rooms. Students will be able to check patients' records at computer-equipped kiosks nearby. Faculty will be able to observe through one-way glass and offer instruction and feedback using microphones installed at built-in desks outside the exam rooms. Instead of completing pencil and paper evaluations, faculty members will use laptops to enter assessments directly into a central database. 
"This center provides a realistic venue for medical students to develop the clinical examination and communication skills essential for physicians and for faculty to assess those skills," said Neill, who added that along with all the technology that has been incorporated into the center's design – including constantly changing digital displays in the lobby area –unique artwork, photographs and medical artifacts on loan from the Center for the History of Medicine at the Francis A. Countway Library of Medicine also grace the halls.
"One of the wonderful things about this space is that we've tried to be respectful of the history that has occurred in this building.  Until 2003, the space was occupied by a surgical research lab where research conducted Dr. Joseph Murray resulted in the first kidney transplant in 1954 and a Nobel Prize in Medicine in 1990," Neill said.
An official ribbon-cutting ceremony takes place this month, but students and visitors began using the halls and meeting rooms as soon as the restorations were complete.
Construction also inspired development of further renovation plans for the remainder of the TMEC building.
"This renovation is a terrific example of what you can do with an old building," said Rick Shea, associate dean for campus planning and facilities. "It shows that it is possible to breathe a new spirit into existing, historic structures, and extend their usefulness into a new century."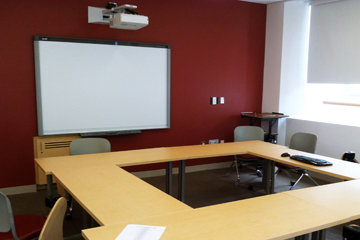 Follow
HMS
Stay informed via email on the latest news, research, and media from Harvard Medical School.

Clinical Skills Center Opening
Photo Gallery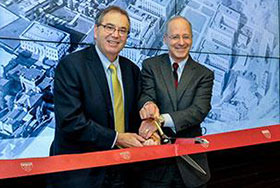 Harvard Medical School Dean Jeffrey Flier and Dean for Medical Education Jules Dienstag officially opened the new center on Nov. 19, 2013.