News
Muto Named New Executive Administration Dean
Harvard Medical School Dean George Q. Daley announced on June 19 that he has named Lisa Muto as the new executive dean for administration for HMS. Muto has been interim executive administration dean since last October.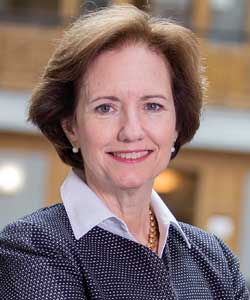 "From the outset I was greatly impressed by Lisa's remarkable intelligence, strategic approach to problem solving, and vast knowledge of the School, our priorities and our culture—and importantly, Lisa is deeply devoted to HMS," Daley said in a letter to the community announcing the appointment. 
 
Daley said he chose Muto following a nationwide search because of her "remarkable managerial skills, her tenacity, her deep commitment to our mission and her candor."
"I am honored Dean Daley has offered me this opportunity to shepherd HMS in the coming years," Muto said. "I share his enthusiasm for the School and for the members of this remarkable community, and I will partner with him to foster an inclusive, transparent and supportive environment where people are empowered to do their best work," Muto said.
"These are remarkably challenging times, and we must work together to ensure HMS is both strategic and nimble as we navigate a landscape that is changing dramatically on many fronts," she added.
In her new role, Muto will assume responsibility for managing the School's vital administrative functions and will partner with members of the HMS community to advance the excellence of the School's scientific and educational missions. Her immediate priorities will be to create a high-functioning administrative team and to work to help ensure the School's long-term financial health. 
"These past months I have watched Lisa's deft approach to problem solving and the collegial manner by which she has built vital collaborations throughout the HMS community," Daley said. "This is a period of tremendous opportunity for HMS, but it is also a time when we must confront significant challenges. I believe Lisa is a creative and widely respected leader on whose judgment we can all rely to guide us in the coming years." 
 
Muto brings to the role significant depth of experience in operations and strategic planning, having worked for more than 25 years across Harvard University and HMS. She joined HMS as a senior administrative and financial officer in the Department of Health Care Policy, and for the past nine years, has served as the associate dean for institutional planning and policy, advancing academic and strategic planning for the preclinical departments.
Muto was instrumental in helping to launch the Department of Biomedical Informatics and was a driver in the development of the School's continuing medical education program. She also co-led the School's successful LCME (Lisaison Committee on Medical Education) accreditation process. 
 
Through the years Muto has also served on numerous Harvard committees. Among these, she was a co-chair of the Joint Committee on the Status of Women and a member of the HMS Committee on Diversity.  In 2007, she was honored with the Joseph B. Martin Dean's Award for the Advancement of Women Faculty and Staff. She received her AB magna cum laude with highest honors from Harvard College and her PhD from McGill University. 
 
Follow
HMS
Stay informed via email on the latest news, research, and media from Harvard Medical School.