News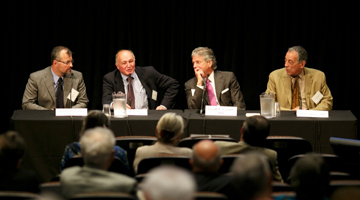 Fifty-eight years after Joseph E. Murray '43 performed the first successful organ transplant in a human, a faculty symposium dedicated to his memory featured four pioneers who are striving to restore organs or even faces lost to trauma or disease.
The challenge Murray met still confronts medicine today: How can the body accept foreign tissue as its own? Murray, who won the 1990 Nobel Prize in Physiology or Medicine, developed some of the first immunosuppressive drugs, extending transplantation beyond identical twins.
Tissue rejection remains a hurdle. Patients must take powerful drugs for a lifetime and risk increased vulnerability to cancer and infection because their immune response is muted.
Tolerance — a state in which tissue donated by an unrelated person or engineered in a lab does not provoke rejection in the absence of immunosuppression—is still the holy grail, the speakers told an audience in the Joseph B. Martin Conference Center. That audience included Murray's widow, Bobby, and two of their six children: Katherine Murray Leisure '78 and Richard Murray. A. W. Karchmer '64, chair of alumni relations and an HMS professor of medicine at Beth Israel Deaconess Medical Center, welcomed alumni in attendance and William Chin '72, HMS executive dean for research, moderated a panel discussion.
Terry Strom, HMS professor of medicine and codirector of the Beth Israel Deaconess Transplant Institute, hopes to create tolerance by tilting the balance between immune cells that aggressively attack a transplanted kidney and immune cells that protect that new organ as "self." Experiments in animals have induced tolerance by exposing the recipient to antigens from the donor before transplantation.
"Our hope is to liberate patients from the immunosuppressive agents they must take," he said.
Joseph Vacanti, the John Homans Professor of Surgery and chief of pediatric surgery at Massachusetts General Hospital, wants to alleviate the shortage of organs available for transplant by building them. Working with tissue engineering scientists from MIT, he also hopes to eliminate rejection by using cells that create their own tissue on synthetic scaffolds.
"We combine biology with technology," he said. "It's an engineering problem."
A. Benedict Cosimi, the Claude E. Welch Distinguished Professor of Surgery and emeritus chief of transplantation at Mass General, is researching donor-specific tolerance. Called chimerism, the technique introduces a donor's bone-marrow cells into the recipient before transplantation. A long-term clinical trial is in progress.
"Tolerance is close," Cosimi said.
Bohdan Pomahac, an HMS associate professor of surgery and director of plastic surgery transplantation at Brigham and Women's Hospital, shared lessons learned from five of his patients —Jim, Dallas, Mitch, Charla and Carmen—who now have new faces and new lives.
He said immunosuppression is a challenge in the complex feat of face transplantation. Because patients can live without face transplants, the decision to take the drugs comes down to quality of life.
Pomahac showed before-and-after photos, to gasps from the audience. Then he showed one more.
"Dallas got married this past spring," he said.
Follow
HMS
Stay informed via email on the latest news, research, and media from Harvard Medical School.