News
Moving Toward Progress in Paralysis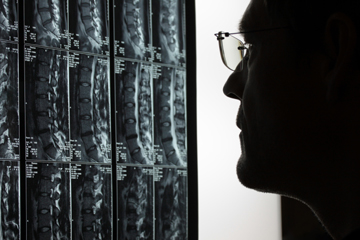 Hearing the term "paralysis" often conjures the image of someone with a spinal cord injury. While an estimated 1.2 million Americans do suffer from paralysis due to a spinal cord injury, the impact of paralysis is even more widespread, with nearly 5.6 million affected overall, according to the Reeve Foundation. Paralysis is caused by a wide variety of complex conditions, many of which are neurologic in nature, such as stroke, multiple sclerosis, cerebral palsy and traumatic brain injury.
Recently, the Cele H. & William B. Rubin Family Fund, in an effort to create a more collaborative and comprehensive approach toward the treatment and potential cure of paralysis, established the Ellen R. and Melvin J. Gordon Center for the Cure and Treatment of Paralysis at Spaulding Rehabilitation Hospital and Harvard Medical School. The Rubin Fund committed $5 million to establish the center, whose charge is to make major and lasting changes in the understanding of, development of treatment interventions for, and possible cure of paralysis, including that caused by brain stem injury.
Ross Zafonte, senior vice president of medical affairs, research and education for the Spaulding Rehabilitation Network and chair of the Department of Physical Medicine and Rehabilitation at HMS, will serve as the center's director. Michael Greenberg, the Nathan Marsh Pusey Professor of Neurobiology and head of the Department of Neurobiology at HMS, will oversee the associated fellowship program at HMS.
"When we look at paralysis in total as a disease model we see that its impact is incredibly broad, severely inhibiting the quality of life for millions of individuals, many of them suffering silently with little hope for improvement," said Zafonte, who is also the Earle P. and Ida S. Charlton Professor of Physical Medicine and Rehabilitation at HMS. "With the generous support from the Rubin Fund, our goal is to establish the Ellen R. and Melvin J. Gordon Center for the Cure and Treatment of Paralysis as a beacon of discovery and hope on par with the top centers in the world."
"We are grateful to the Rubin Fund for both their generosity and foresight," said Greenberg. "Harvard Medical School's expertise starts at the lab bench and expands to the clinic. The more we investigate the fundamental biology of neurological damage, the stronger our clinical interventions will be. The establishment of this new center will enable those of us at the medical school to engage even more productively with our outstanding colleagues at Spaulding. We're delighted at this opportunity."
The center will enable researchers and clinicians from Spaulding and Harvard to coordinate with scientists from across the country and the world to expedite novel therapies and potential cures, the researchers said. In addition to contributing to the current knowledge base through research studies, the center will convene an annual meeting of investigators to share results and review accomplishments. The center will also seek new ways to deliver care at Spaulding and provide information to the broader community of people with disabilities.
"If we use this opportunity to its full potential, I have no doubt we will remember this moment, enabled by the Rubin Fund, as making a fundamental difference in our approach to paralysis," said Zafonte. "I couldn't be more hopeful of what we can do and I know all of us at Spaulding and Harvard Medical School involved in this are ready to get to work."
Adapted from a Spaulding Rehabilitation Hospital news release.
Follow
HMS
Stay informed via email on the latest news, research, and media from Harvard Medical School.