News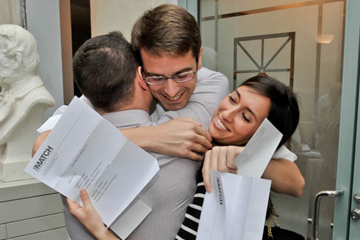 The jitters. The butterflies. The collywobbles. Nerves.
By the time a typical Harvard Medical Student nears graduation, he or she has learned the intricate details of human anatomy, taken countless clinical exams and treated patients alongside faculty mentors. All the work is meant to sharpen their minds and stiffen their backbones in preparation for specialized training as hospital residents.
The final hurdle: They must match to a residency program. Each year on the third Friday in March, on Match Day, medical students across the nation learn where they will be placed for the next phase of their careers. The anticipation is enough to disquiet even the most phlegmatic and steel-willed students as they learn where they will spend the next one to several years.
"It is nerve wracking. There's so much work that's gone into this one thing," said Dan Seible, who plans to specialize in radiation oncology. "We've had great advisors and preparation to be competitive in our fields. Even though we've already made our decisions, put in our rank list and now it's out of our hands, it's hard not to be nervous on Match Day."
The National Residency Matching Program provides a mechanism for matching the preferences of applicants at medical schools all over the United States with the preferences of residency program directors. If applicants cannot be matched to their first-choice programs, an attempt is made to place them into a second-choice program, and so on.
Let the Match Begin!
At HMS, in the Tosteson Medical Education Center atrium on March 21, a stack of envelopes with each student's match results was placed on a table in front of each of the five student societies. At noon, students were allowed to open the white envelopes and learn where they will complete their training.
Student Julia Rudolf, who plans to specialize in internal medicine, eagerly checked the clock, waiting.
"Before, I didn't really understand what Match Day was about. But this year, going through the process, you realize it's a really unique process, with very big emotional highs and lows," she said.
But Rudolf said she felt equal parts nervous and excited.
"This process is something unique to medicine, because you are thrust into a new environment with so many dynamic people. We've been professional students for 20 years. I think that's why it has so much gravitas. This will be my first real job," Rudolf said.
A Final Teaching Moment
Nancy Oriol, HMS Dean for Students, rang a bell familiar to students as a signal for classes to start, before introducing Randall King, the Harry C. McKenzie Professor of Cell Biology, who gave the Match Day remarks.
"Medicine is about science and about people, so two metaphors come to mind.
First, the geeky science metaphor: Today you are all like neural crest cells. Soon, you are going to learn where you will migrate to. You will differentiate into smooth muscle, neurons or melanocytes for the dermatologists," said King.
"But ultimately it's not just about where you go or what program chooses you. It's ultimately about how you're going to impact that program, what you will contribute," he said.
"The human metaphor is that this is a moment that's full of a lot of excitement but also a lot of anxiety. I think it's an opportunity to capture that and feel that. Because when you're interacting with your patients, your patients are experiencing that kind of anxiety and uncertainty almost constantly," said King.
"I think the impact you can have as a physician in helping them through their uncertainty is an important part of the process of becoming a physician. And helping to relieve that anxiety, holding a hand or answering a question, is as important as prescribing a pill," he said.
Opening Up
Following King's remarks, the students lined up in front of their respective societies. Then the sound of tearing paper. Suddenly, there are a few shouts of joy. As more students opened envelopes, the room erupts. Students hugging, kissing, jumping and crying tears of joy shared with family and friends.
Seible opened his envelope and matched to his first choice for intern year at Scripps Mercy Hospital in San Diego, followed by a residency at UC San Diego Medical Center.
"I'm just happy. I think most of us, even if we didn't get our first choice, have lots of good options," he said.
At HMS this year, 160 students matched to a training program. Half of the students will remain at an HMS program for some part of their training, internship and/or residency. Almost half, 74 students, will participate in an HMS program for their specialty only. After Massachusetts, the most popular location for the clinical training year was California, with 26 matches, followed by New York, with 12 matches.
HMS students joined 16,399 other medical school seniors across the country who matched to first-year residency positions this year.
"I'm ecstatic!" said Rudolf. "I matched at Brigham and Women's Hospital in internal medicine, which is a dream come true for me."
"When I walked into the Brigham as a third-year medical student, I knew I wanted to be there. There are so many wonderful mentors there, from the intern to the attending level. I'm pleased as pudding," she said.
What happened to the nerves?
"Nerves?" asked Rudolf. "Evaporated."
Follow
HMS
Stay informed via email on the latest news, research, and media from Harvard Medical School.