2011 Longwood Seminars Video Archive
2011 Longwood Seminars Video Archive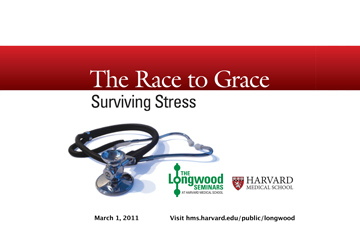 The Race to Grace: Surviving Stress (March 1, 2011)
In today's 24-7 world, it's common to feel anxious, overburdened and stressed periodically. At this Longwood Seminar, doctors explain how the body responds to stressful situations and describe how stress affects psychological and physiological well-being. Faculty members share insight about how stress can be effectively managed.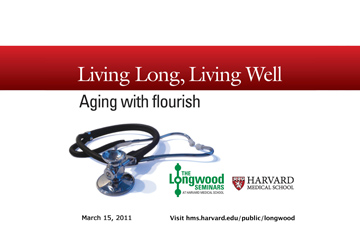 Living Long, Living Well: Aging with Flourish (March 15, 2011)
As life expectancy continues to rise throughout the US, many of us can look forward to a longer life. In this Longwood Seminar, you will learn about the biology of aging to help explain the changes that take place in the body as people age, as well as hear practical advice from a physician about how to live a long and healthy life.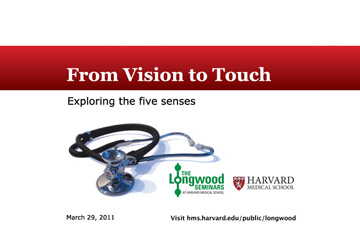 From Vision to Touch: Exploring the Five Senses (March 29, 2011)
The senses make it possible to explore our surroundings and communicate in the world, but do you understand their role in the body? At this Longwood Seminar, a panel of Harvard faculty members who specialize in each of the five senses share their expertise on touch, vision, hearing, smell and taste, and discuss ways the senses can be leveraged to affect our health.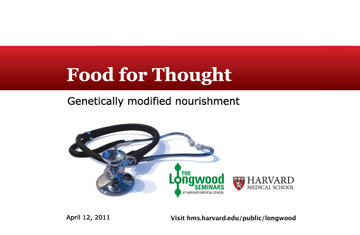 Food for Thought: Genetically Modified Nourishment (April 12, 2011)
Since the early 90's when it was first produced in the US, the value of genetically modified (GM) food has been challenged and debated. In this Longwood Seminar, you will learn about how GM foods are produced and how the process may change in the future. The relative benefits and controversies surrounding GM foods as well as policy issues associated with their production are discussed. Faculty members knowledgeable about GM goods share what is known about the technology and how it may in time be used to address worldwide problems, such as hunger and disease.