News
JCSW Celebrates 40th Anniversary at HMS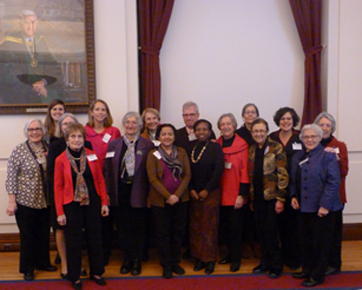 What would the world have missed if women were not accepted into Harvard Medical School?
In 1945, Dora Goldstein and Raquel Eidelman were among the first women accepted as students at HMS. Goldstein became a leading national expert on alcoholism, and Eidelman went on to become a renowned international authority on the psychological and social consequences of disasters.
Goldstein and Eidelman were admitted 163 years after the school was established, marking a breakthrough for generations of women who had dreamed about attending Harvard Medical School but who were excluded because of their gender.
Just because women were admitted to the School did not necessarily mean they shared the same experience as male students. Close to 30 years later, in June 1973, the Joint Committee on the Status of Women, proposed by the HMS Governance Committee, was formed to address issues of concern to the female population of the School and expand opportunities for leadership.
Today, women represent almost 50 percent of enrolled medical students at HMS, according to the registrar's office. The group's leadership has turned its attention from admissions inequities to improvement of the overall experience of women on campus. However, some of the issues that JCSW members faced in 1973 are still on the JCSW agenda.
The member-driven organization reconfigures itself annually to address key issues that many women are facing, said Sheila Nutt, the director of educational outreach in the Office of Diversity Inclusion and Community Partnership and the programming co-chair for the JCSW.
"The JCSW is evolving and seeking out new ways to express our core values and activities that complement what we believe in," said Nutt.
In 1976, the JCSW completed a report on child care surrounding the hospitals, which resulted in the opening of the Longwood Medical Area Children's Center.  More recently, 11 mothers' rooms were added on campus based on the committee's recommendations. Supporting HMS faculty and staff members who have children is just one of the many ongoing priorities for the JCSW.
Celebrating 40 Years
Currently, the JCSW is focusing on its yearlong 40th anniversary, which has consisted of events highlighting their mission to "facilitate and enhance the contribution of women faculty and staff at HMS and HSDM by expanding and enhancing opportunities for leadership and advancement."
At one of the JCSW's anniversary events on March 3, Melissa Broderick, HMS ombudsperson, gave a talk about how to engage in effective negotiation. Broderick spoke in depth about negotiation styles and the elements of principled negotiations. It was the kind of guidance some JCSW members find particularly valuable.
"I feel better prepared to effectively negotiate after listening to Melissa," said a JCSW member who did not want to be identified. "I appreciated the tools and devices she gave us to feel more confident when going into a negotiation."
In April, the JCSW invited HMS students to attend an event featuring Lisa Coleman, chief diversity officer for Harvard University, who spoke about diversity and equity opportunities for women.
One of the JCSW's goals is to make an impact on the HMS community by providing mentoring programs for faculty and staff to help advance their careers. They also help develop guidelines for job sharing and flexible work schedules, which are designed to help to encourage talented women to continue in the workforce.
Looking Ahead
To Ingrid Katz, instructor in medicine at Brigham and Women's Hospital and JCSW programming co-chair, the committee inspires its members by connecting them with a common desire to improve working conditions for all women at HMS. The group brings together faculty and staff who would otherwise not know or work with each other, Katz said.
"Each year, this committee thinks about the programs and how it can best reflect the ever- changing needs of the constituencies of the JCSW and Harvard at large. Each year has a fresh approach," said Katz. "It is a valuable learning experience, and members make lifelong connections through the organization."
Follow
HMS
Stay informed via email on the latest news, research, and media from Harvard Medical School.