News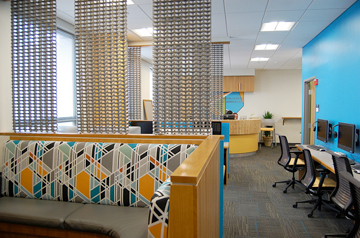 The HMS Information Technology Department is improving the IT experience for students, faculty and staff with the creation of a new Technology Service Center in the Tosteson Medical Education Center.
The center, located in TMEC 225, has been outfitted with new computer workstations, individual study rooms and group collaboration spaces.
"Many people are excited about the group collaboration space. It will allow two or more students to work together with the option of hooking up their laptops to the new 50-inch flat screen," said Jason Obedzinski, HMS director of IT client services.
Another addition to TMEC 225 is a new IT service desk, which is a walk-in version of the help desk phone line. The service desk will assist HMS staff, faculty and students with their computer and technology needs, said Obedzinski. The service desk will be open on business days from 8 a.m.–5 p.m.
The IT Service Center will showcase HMS TechRefresh computing equipment. TechRefresh, an initiative launched last fall, offers faculty and staff a quick and cost-effective way to purchase computer equipment.
Construction of the new computing space began on January 21 and is now open for use.
For more information and a slideshow of the new space, visit http://hms.harvard.edu/departments/hms-information-technology/it-news-announcements/announcing-opening-technology-service-center.
Follow
HMS
Stay informed via email on the latest news, research, and media from Harvard Medical School.