News
HMS Receives $20 Million from Ronda Stryker and William Johnston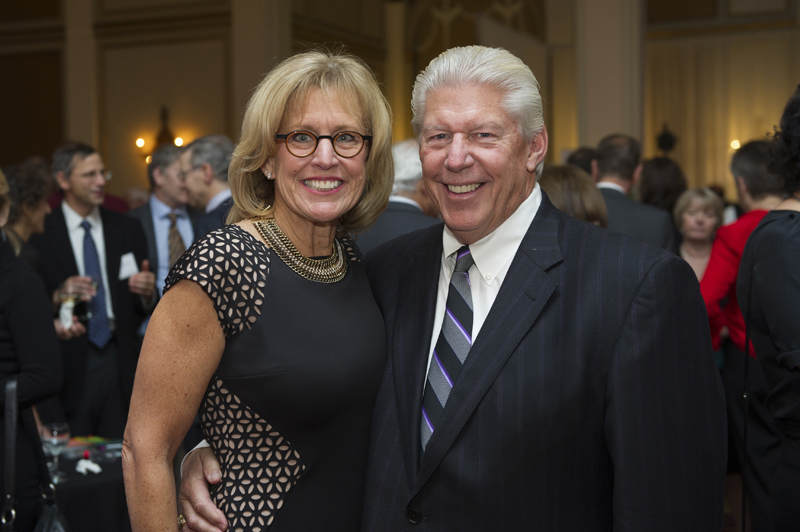 Philanthropists Ronda Stryker and her husband, William Johnston, have pledged $20 million to the Harvard Medical School Department of Global Health and Social Medicine over the next five years.
This generous gift will support senior and junior faculty, research fellows and students in their work to provide equitable health care around the world, HMS leaders said.
"I believe that, in my lifetime, we can create a movement and effect real change in billions of people's lives around the world, particularly women and children who often bear the brunt of the lack of access to health care," said Ronda Stryker, director of the Stryker Corporation and a member of the Harvard Medical School Board of Fellows and Advisory Council on Global Health and Service.
"A significant investment in HMS to support current and future leaders in global health, under Paul Farmer's leadership, will change things for the better. It comes down to kindness to humanity, and if Harvard Medical School can teach and train others to replicate the work Paul and his team do every day, the world will be better for it,"  she said.
HMS Dean Jeffrey S. Flier, said he is deeply grateful to Stryker and Johnston for their generosity and for their meaningful commitment to global health and to advancing the vision of Paul Farmer.
"This remarkable gift will enable our faculty within the Department of Global Health and Social Medicine to continue to improve the lives of people throughout the world while also supporting the next generation of global health leaders," Flier said.
The gift, which is the largest in the department's history, will
establish the Ronda Stryker and William Johnston Professorship in Global Health;
bolster the careers of junior faculty and fellows by supporting research in fields such as HIV and Ebola and by creating an annual forum in which researchers can receive mentorship and build community;
enable students from around the world to enroll in the HMS Master of Medical Sciences in Global Health Delivery program;
support the development and execution of projects in the HMS Global Health Research Core that inform patient care; and
enhance HMS research and advocacy efforts in global surgery.
"This gift gives us the ability to solidify our foundation of collaborative research, care delivery and education for global health equity, while also providing crucial flexibility to respond to the needs of the communities we serve, as defined by the people within them," said Paul Farmer, chair of the HMS Department of Global Health and Social Medicine and Kolokotrones University Professor at Harvard.
Farmer said the gift will also allow the department to continue offering need-blind admission to students in the MMSc program in global health delivery.
One recent student provides a tangible example of the importance of the kind of flexibility the gift will allow, department leadership said. When Mohamed Bailor Barrie applied to the program, he intended to pursue a research project focused on tuberculosis. Between the time of his acceptance and the beginning of the program, Ebola erupted in his native Sierra Leone.
Barrie shifted the focus of his work to delivering clinical care to those affected and to furthering the understanding of Ebola, not just as an isolated biomedical phenomenon but in the context of history, economics and culture.
The HMS Research Core in Global Health was also able to direct its efforts toward West Africa when cases of Ebola were on the rise. Working with partners in Sierra Leone, the Research Core drew on established relationships with caregivers in rural Ebola treatment units to field test a new rapid Ebola diagnostic that could become a crucial tool in the battle against the virus. 
Farmer emphasizes the importance of looking at the many facets of global health not as competitors for scarce resources, but as crucial, interlocking parts of a whole that reinforce one another.
"Research and training don't take away from care delivery, they make it better," Farmer said. "The connective tissue that allows all of these different elements to work together is philanthropy, and this gift will be truly transformational."
Follow
HMS
Stay informed via email on the latest news, research, and media from Harvard Medical School.