News
HMS Physician Nominated To Be U.S. Surgeon General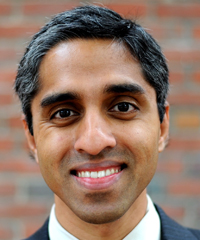 President Barack Obama has nominated a Harvard Medical School physician to become the 19th surgeon general of the United States.
Obama announced his nomination of Vivek Murthy, an HMS instructor in medicine at Brigham and Women's Hospital and Brigham and Women's Faulkner Hospital, on Nov. 14. 
Murthy's nomination will next go through an approval process in the U.S. Senate; if approved by a majority vote, Murthy will assume the role of lead spokesperson on all national public health matters and will lead the U.S. Public Health Service Commission.
"HMS has a long tradition of producing this nation's health care leaders, " said Jeffrey S. Flier, HMS Dean of Faculty.  "Vivek Murthy's nomination is an honor and reflects well on the caliber of the many dedicated physicians and scientists who do remarkable work at HMS and our affiliated teaching hospitals and research institutions every single day."
"Dr. Murthy will be an exceptional surgeon general," said Betsy Nabel, president of Brigham and Women's Hospital. "Passion for others has been the common thread underlying Dr. Murthy's endeavors to connect at all levels with people to better their worlds through optimal health."
Murthy would replace Acting Surgeon General Rear Admiral Boris Lushniak, who has held the post since July after Regina Benjamin stepped down at the conclusion of her term.
Murthy, 36, is the co-founder and president of Doctors for America, a position he has held since 2009. Doctors for America is a national organization of more than 16,000 physicians and medical students from every state who are collaborating to improve health care in U.S. communities.
In 2007, Murthy also co-founded TrialNetworks, a platform that uses cloud-based technology to optimize operations for pharmaceutical clinical trials. In 1995, he co-founded VISIONS Worldwide, a nonprofit focused on HIV/AIDS education in India and the U.S., where he served as president from 1995 to 2000 and chairman from 2000 to 2003. 
In January 2011, Obama appointed Murthy to serve as a member of the Advisory Group on Prevention, Health Promotion, and Integrative and Public Health, a panel created by the Affordable Health Care Act.
Murthy, who received a B.A. from Harvard University and an M.D. from Yale School of Medicine, as well as an MBA from Yale, has been an instructor at HMS and served as a hospitalist at Brigham and Women's since 2006, after completing his residency in internal medicine at the hospital.
As chief doctor for the U.S., the primary responsibility of the surgeon general is to offer Americans the best scientific information available on how to improve their health and reduce the risk of illness and injury. The surgeon general serves a four-year term and reports to the U.S. Assistant Secretary for Health.
Follow
HMS
Stay informed via email on the latest news, research, and media from Harvard Medical School.