News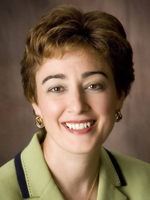 The alleviation of human suffering is a cornerstone of the HMS mission. Within this realm, efforts range from broad-scale global health initiatives to the bedside care of an individual patient. For palliative care doctors like Kathy Selvaggi, assistant professor of medicine at Brigham and Women's Hospital, alleviating the pain experienced by individual patients is central to the daily practice of medicine.
"Kathy is a dedicated, compassionate, expert palliative care physician with incredible leadership skills and the capacity to gain people's trust and to inspire them. She has led the development of a dedicated intensive palliative care unit with tremendous vision," said Susan Block, HMS professor of psychiatry and medicine, and chair of the Department of Psychosocial Oncology and Palliative Care at Dana-Farber/Brigham and Women's Cancer Center.
Selvaggi, co-director of the inpatient palliative care unit at the Dana-Farber/Brigham and Women's Cancer Center, was recognized this year with an Exemplary Care Award, which is awarded annually to a Dana-Farber clinician who gives his or her heart and soul to patient care.  She is one of four Dana-Farber physicians recognized for outstanding work this year at the third annual Dana-Farber Cancer Institute Clinical Faculty awards ceremony held at Boston's Museum of Science on Feb. 10. (See below for a full listing of the 2013 Dana–Farber Cancer Institute Clinical Faculty Awards.)
"Kathy and her team care for some of the sickest people in the hospital, all of whom are experiencing considerable, and sometimes extreme suffering when they arrive on the intensive palliative care unit," Block said. "Through her calmness, quiet confidence, ability to listen, and her expert palliative care skills, she is able to provide care that honors the dignity of the patient, engages family members, provides information and guidance, and offers expert management of symptoms, to allow patients to live as well as possible with their illness."
When asked what factors have contributed to her ability to consistently provide exemplary care, Selvaggi credited the entire team of providers in the intensive palliative care unit.
"I have the honor and privilege of working with an extraordinary team of talented and dedicated people,"said Selvaggi.
Selvaggi's interdisciplinary team is comprised of physicians, physician assistants, nurses, a social worker, a care coordinator, a chaplain, and a dedicated pharmacist, who she credits for their hard work cohesively caring for patients with cancer and their families.
"This interdisciplinary team cares for cancer patients throughout the trajectory of their illness and this work can be very emotionally trying at times. This team cares deeply about each member and we work together to support one another. The most apropos word to describe this team is awesome," Selvaggi said.
 "She is not afraid to tell the truth, even about hard realities, but does so with a gentle touch, and with an intensive focus on patients' well-being and personal goals that provides them with security and comfort," Block said of Selvaggi's work.
2013 Dana–Farber Cancer Institute Clinical Faculty Awards:
Institutional Citizenship Award: Given to a Dana-Farber clinician who gives his/her time to the betterment of the institution through committee-work, outreach, and other activities.
Ann LaCasce, MD, M MSc, Department of Medical Oncology, Program Director for the Dana-Farber/Partners Cancer Care Fellowship in Hematology/Oncology, Assistant Professor of Medicine, HMS
Bridging Boundaries Award: Awarded to a clinician in a subspecialty (surgery, imaging, pathology) who is dedicated to oncology and particularly skilled in interacting with other disciplines.
Christopher Weldon, MD, PhD, Department of General Surgery, Boston Children's Hospital, Instructor in Surgery, HMS
Exemplary Care Award: Recognizes a clinician who gives her/his heart and soul to patient care.
Jennifer Bellon, MD, Department of Radiation Oncology, Dana-Farber, Assistant Professor of Radiation Oncology, HMS
Kathy Selvaggi, MD, MS, Psychosocial Oncology and Palliative Care Senior Physician, Dana-Farber, DFCI Director of Inpatient Palliative Care Unit Brigham and Women's, Assistant Professor of Medicine, HMS
Follow
HMS
Stay informed via email on the latest news, research, and media from Harvard Medical School.