The Healing Arts
U.S. VA hospitals are using the creative arts as a form of rehabilitative treatment
Before serving in the Air Force in the early 1980s, Joe Ramage was passionate about music. A skilled guitar player and singer, he was interested in all kinds of music and spent his time singing or performing with groups of friends or as a solo act. After his service, however, Ramage's interest in music faded, replaced by a struggle with substance abuse.
Ramage, 49, an Avon, Mass. resident, wanted to combat his addiction, and began searching for a long-term rehabilitation program. Five years ago he found the Bedford Veterans Affairs (VA) medical facilities after a long search.
"They had everything," he said. "The other veterans and I had gone through such similar experiences, from our military service to our substance abuse—we had great camaraderie."
Once at the VA facility, Ramage got the care he needed, but it was his interactions with the other veterans that really made his treatment successful, he said.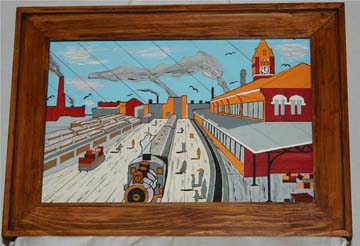 Ramage, who is originally from Ludlow, Mass., recalled meeting other vets who shared a love of music, similar to the passion that he once had. A group of them invited Ramage to join the musical program.
"Coming into the program really sparked that [musical] interest again," Ramage said. "It was a great recovery tool for me."
Many vets, like Ramage, are using the arts as an avenue to recover from and cope with both physical and emotional disabilities, VA officials said.
"The arts can offer a very important refuge ... which adds immeasurably to the other science-based treatments we have," said Terence Keane, an HMS lecturer on psychiatry at the VA Boston Healthcare System and the director of the National Center for Post Traumatic Stress Disorders.
"The visual and performing arts reflect important ways in which society has, for thousands of years, managed issues and problems in living," Keane said.
Keane, who has lectured on the art and science of treating PTSD, said art and psychotherapy can act as complimentary types of interventions, but while therapy may only take place for one hour a week, expression and disclosure through creative processes can last over time.
"It really does help us transfer from the clinic or consulting world to the real world," Keane said.
In acknowledgement of the power of the arts, veterans at VA medical facilities nationwide have been invited by the Department of Veterans Affairs to participate in a yearlong creative arts competition that celebrates the use and success of creative arts as a rehabilitative treatment.
The annual National Veterans Creative Arts Festival (NVCAF), which was held in Boston Oct. 8-14, gives veterans and their art some national recognition. A national selection committee chooses first, second and third place winners from all the national entries and then invites winners to exhibit at the National Veterans Creative Arts Festival, which showcases talent from across the country.
In 2009, one of Ramage's band mates discovered the local Creative Arts Festival and entered the group into the competition. Shortly thereafter, Ramage met Leah Sullivan, a recreational therapist at the Bedford VA. Sullivan was involved with the local competition and invited Ramage to assist in her efforts get other veterans more involved.
Ramage began encouraging new veterans to enter into the local festival, while also performing his own solo music in the competition.
Already having performed in the 2011 Creative Arts Festival, Ramage was again selected to participate in this year's national choral performance.
"Being involved in the music is my grounding, it's really what keeps me where I'm at today," Ramage said.
Since its start, the national competition has grown to include more than 100 categories of the arts, divided into a visual arts and performing arts. This year, work produced by numerous veterans from VA facilities across the country will be exhibited in 53 visual art categories.
Kristin Pressly, public affairs officer at the Bedford VA, has spent the past three years working with local veterans whose artistry has been chosen for display.
"I can see the great pride within the veterans I've interacted with, as well as the joy from spectators and the positive impact they have on the VA community," said Pressly.
This year, the arts festival, was held in Boston, with the visual arts exhibit held at the Great Hall at the Massachusetts State House and a stage show was held at the Cutler Majestic Theatre at Emerson College.