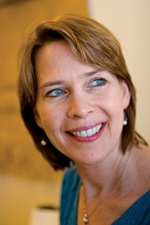 Claim To Fame:
Vice Chair, Department of Global Health and Social Medicine, Harvard Medical School
Bridging Islands:
Thirty years ago, before global health was a Harvard institute—before it was even widely recognized as an academic discipline—it was a passion for the then-teenaged Anne Becker '90. That passion led her to Harvard—first as an undergraduate, then as a student in the inaugural cohort of the Medical School's MD–PhD program in social sciences; then to three decades of fieldwork in Fiji, where she began unraveling the complex forces driving eating disorders and suicide risk in adolescents; and then back to HMS, where she is now a professor training future global health leaders.
A Healthy Appetite:
On the South Pacific island nation of Fiji, Becker lived in the household of a village chief during her doctoral field research. "When I wasn't working at the local hospital, I was scraping coconuts or fishing," she says. She was fascinated by Fijians' relationship to their bodies—more frank and communal, less self-conscious than those of Americans. And bigger was often better. "People would say, 'You look great! You've gained weight.'"
Tuning In:
In 1995, when television arrived in Fiji, Becker set out to see whether the traditional valuation of robust bodies would protect Fijian girls from the adverse impact of media on body image and the increased risk for eating disorders seen elsewhere. "Unfortunately," she says, "the results were just the opposite." Signs of eating pathology emerged in apparent lockstep with television, as teenage Fijian girls encountered a novel world that seemed to connect thinness with material wealth and autonomy. Becker's follow-up research explored a tangle of generational conflict, domestic violence, youthful hope, and hopeless poverty. Ultimately, she says, "What began as a study about eating pathology became a study about suicide."
Safety Net:
Poor and politically unstable, Fiji struggles to meet its citizens' mental health needs. Becker has collaborated with Fijian officials to develop a range of strategies, including a pilot program aimed at training teachers to identify and counsel girls at risk for suicide and eating disorders. She plans to return to Fiji in 2012 to evaluate outcomes of this program.
Peer Effect:
Any solution is complicated, however, by Becker's latest findings, which suggest that a peer network's exposure to television plays a far greater role in Fijian girls' risk for eating pathology than individual viewing habits. "In other words, it doesn't matter whether you watch TV," Becker says. "It matters whether your friends watch TV."