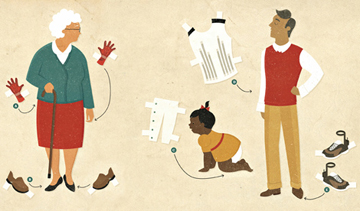 With the hope of one day filling closets with assistive medical devices woven into textiles, affixed to leggings, or stitched into shoes or gloves, Harvard Medical School researchers are designing apparel that weaves technology with fashion to enhance patients' lives.
A. Helping Hands
Improving the functioning of a patient's hands and upper limbs following stroke or other neurological insult is the goal of research in the laboratory of Paolo Bonato, an HMS assistant professor of physical medicine and rehabilitation and director of the Motion Analysis Laboratory at Spaulding Rehabilitation Hospital. Although patients can improve arm and hand movement by performing tasks that involve reaching for, grasping, and retrieving objects, it can be difficult to ensure that patients practice those tasks correctly and repeatedly. So Bonato and his team developed a sensorized glove that, when combined with a robotics platform, guides a patient in exercises designed to rebuild function. A proven aid to adults with traumatic brain injury, the glove may, Bonato hopes, also help those for whom stroke and neurological problems have impaired or limited upper-limb function.
B. Good Vibrations
Is it easier to stay upright if the ground beneath your feet moves a wee bit? It may be for older people and for those whose peripheral-nerve sensitivity is dulled by diabetic neuropathy or stroke, says synthetic biologist James Collins, a member of the faculty at the Wyss Institute for Biologically Inspired Engineering at Harvard. Collins, who explores how mild vibrations can stimulate the peripheral nervous system, tested whether vibrating insoles placed in shoes and under the soles of the feet could help elderly people with these disorders maintain their balance while standing still. Sole-based vibrations did the trick, tweaking the performance of nerves enough to decrease postural sway even among healthy participants serving as controls.
C. Little Leggings
The vision of a second skin, one that embraces the legs and directs
a damaged nervous system to learn to function better, powers
the research of Eugene Goldfield, an HMS assistant professor of
psychology at Children's Hospital Boston and an associate faculty
member of the Wyss Institute. As Goldfield sees it, this skin will
serve as a new type of orthotic to aid brain-injured infants, including
those with cerebral palsy. Conceived of as a soft, light fabric studded
with tiny, programmable sensors that can sense a limb's attempts at
movement, Goldfield's smart leggings will take motion information
and feed it to the sensors, which in turn will boost the effort of
the child's muscles. By allowing muscles to experience proper
mechanics, the leggings aim to help rewire the developing brain of
the very young—and improve locomotion.
D. Tell-Tale Threads
Threading clothing with sensors that can track the well-being of people with stroke, chronic obstructive pulmonary disease, and Parkinson's disease is central to the research efforts of Paolo Bonato, who directs motion analysis research at Spaulding Rehabilitation Hospital. "In designing wearable technologies, we always start with the specific challenges of the clinical problem, such as when to make needed changes to medications or therapies," says Bonato. In one study, people with Parkinson's disease performed tasks while wearing sensor-studded clothing that recorded movement patterns; data analyses provided clues to the severity of various symptoms. "Wearable technology can provide objective measures on a continuous basis," says Bonato. "This information gives physicians a detailed picture of whether a medication is effective or in need of adjustment."
E. Dancing Shoes
A shoe that may one day help the elderly and those with Parkinson's disease remain upright and on the straight and narrow was developed as part of a pilot study by a research team from Massachusetts General Hospital and the Massachusetts Institute of Technology. For its study, the team outfitted footgear with such orientation aids as gyroscopes and accelerometers. Dubbed the GaitShoe, the footgear linked onboard orientation instruments to insole-embedded pressure sensors. The sensors then transmitted vital postural data to remote computers through wireless telemetry. Tests of a prototype of the GaitShoe, says Donna Moxley Scarborough, a physical therapist at the hospital and a member of the research team, showed that wearers could roam well beyond the confines of a testing laboratory yet remain monitored. In the future, the team hopes to refine the shoe-sensor system to include musical prompts. Such cues could help Parkinson's patients and perhaps others achieve walking tempos that would, through biofeedback, help them become more sure-footed.