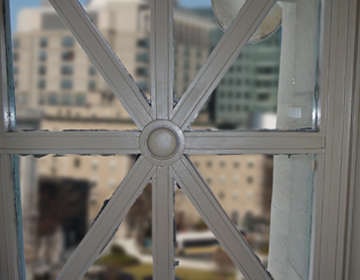 A facelift is in the works for Gordon Hall. In the coming months, the Quad's first building will receive new windows that, in a nod to its past and present lives, both preserve the structure's historic integrity and improve its energy efficiency. Working with the Boston Landmarks Commission, HMS has devised a plan to replace the windows with ones that will reprise the look of those used 106 years ago.
The framework of the new windows will be darker than it is now, reverting to the original gray-green. Rick Shea, HMS associate dean for campus planning and facilities, hired a conservation firm to investigate the initial hues of the sashes, casings, and mullions.
"Gordon Hall's exterior," according to the firm's study, "retains a significant paint history on several elements. . . . Though it is a fairly common practice to remove previous paint . . . it appears that Gordon Hall's window finishes escaped this aggressive treatment resulting in a complete series of 16+ layers of exterior finishes on the wood window casings."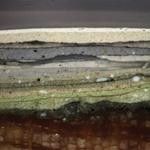 Although southern yellow pine, the wood used for the original windows, is no longer commercially available, it has for the most part withstood the ravages of time. Frames that need restoration will be repaired with mahogany. Locks and other hardware are also being replaced.
Amy Finstein, an instructor at the Massachusetts College of Art and Design, who served as an architectural historian on the project, says that changing the colors and styles of the windows would do more than alter the Quad's appearance, it would disrupt the integrity of one of the city's significant historical sites.
 "Gordon Hall's windows," says Finstein, "are an important part of the building's classical aesthetic, with geometric patterns and symmetry that reinforce the architectural style of the entire HMS design. The medical school quad brought classical elegance and formal organization to an undeveloped area of Boston, echoing the larger national interest in the City Beautiful Movement."
An architectural trend of the late nineteenth and early twentieth centuries, the City Beautiful Movement paid homage to Greek architecture and the ideals associated with it: social engagement, civic pride, democracy, philosophy, and modern medicine. It also focused on organizing spaces, transforming previously chaotic ill-kept cities into destinations that reflected order, cleanliness, and beauty. The Boston Public Library is a consummate example of this movement in the way it organizes Copley Square. A subset of this effort, Campus Beautiful, treated the campus as a city with very strongly organized spaces. It involved a host of schools, including HMS.
Gordon Hall's window restoration should be completed by November 2012.