Chronic pain disrupts the lives of one of every four people in the United States and costs the nation $80 billion annually in lost productivity. Yet effective treatments to counter persistent pain have been lacking. That therapeutic dearth will now be addressed with the launch of the Pain Research Forum. A joint effort of the Harvard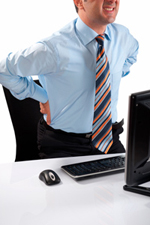 NeuroDiscovery Center (HNDC) and the MassGeneral Institute for Neurodegenerative Disease (MIND), the forum is an interactive virtual community for researchers and clinicians who study chronic pain.
"Highly interactive web communities are an increasing part of day–to–day communication for users of the Internet," says Adrian Ivinson, director of the Harvard NeuroDiscovery Center. "But they are relatively rare in the research community. We hope the Pain Research Forum will become an agora of information and ideas for researchers in the field and that their interactions will catalyze novel, collaborative, and ultimately successful approaches to the challenge of discovering and developing new treatments for chronic pain."
Despite 40 years of progress in understanding the molecular mechanisms and neurobiological underpinnings of pain, few discoveries have been translated into new treatments or other patient–relevant advances.
"Pain is a fragmented clinical field in terms of both research and treatment," says Joseph Martin, the Edward R. and Anne G. Lefler Professor of Neurobiology at HMS, co–founder of HNDC, and a science advisor to the Pain Research Forum. "We hope this site will encourage researchers and clinicians to cross specialty and disciplinary boundaries to work together on improving the care of patients."
The online tool provides news, discussion forums, and research resources. To learn more, visit painresearchforum.org.