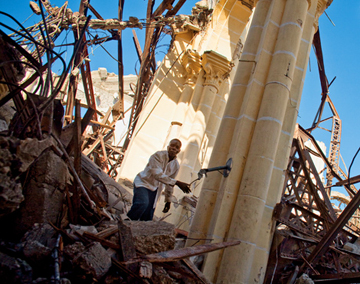 One late afternoon in January, more than 200,000 people in Haiti died in less than a minute. The 7.0-magnitude earthquake destroyed the infrastructure of this already fragile country, leaving more than a million people without homes, livelihoods, or basic services.
For more than two decades, members of the Harvard Medical School community have forged critical partnerships with the people of Haiti. We asked five faculty members who have been intimately involved in the emergency response for their views on how Haiti might regain its footing and how we all might help the country's health care system rise up stronger than ever.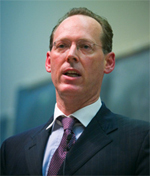 Paul Farmer
The earthquake devastated Haiti's meager health care infrastructure. The only public teaching hospital was nearly destroyed, other medical facilities crumpled, and an entire class of second-year nursing students died alongside their professors when their school collapsed. A week after the earthquake, Haiti's best hospital wasn't even in the country; it was the USNS Comfort, floating in the harbor.
In the first few hours and days, we saw mostly surgical disease—gaping wounds, chest traumas, crushed limbs in need of amputation. Harvard and local doctors working as part of Partners In Health were able to help meet these high-volume needs only because we had long-standing partnerships with local public hospitals. Fortunately, most of the employees and facilities that form the core of Partners In Health's efforts to provide health care to Haiti's rural poor were outside the earthquake zone.
Even before the earthquake, Haiti's health care system lacked the capacity to care for patients with surgical disease. On average, people in the United States have half a dozen surgical procedures in their lifetimes; Haitians tend not to have any. Yet, between this excess and scarcity lies a middle ground.
My colleague David Walton '03 is currently overseeing a Partners In Health joint effort with the Ministry of Health and other collaborators to build a national teaching and reference hospital in central Haiti; its structure will conform to California earthquake standards. With six operating theaters, the facility will be Partners In Health's largest project in two decades.
Right now, though, the situation in Haiti is grim. More than a million people are displaced in camps, some of which sprang up in the very places that need rebuilding. People need shelter. Rains and winds can easily sweep away their tents; you don't need a hurricane to bring down a tarp.
The only way to rebuild sensibly and ethically is to provide temporary settlements that meet basic needs, such as electricity and running water. Decent jobs are also vital. Public works, reforestation, and watershed protection projects could easily employ a million Haitians. There's no dearth of work to be done and no dearth of resources. But what's critical right now is getting the resources into the hands of the people who need them most.
Paul Farmer '90, PhD, chair of the HMS Department of Global Health and Social Medicine, cofounded Partners In Health.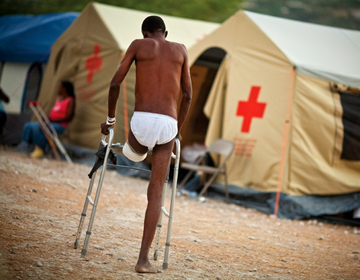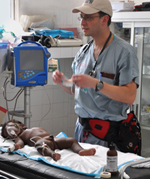 Christian Arbelaez
I arrived in haiti two weeks after the earthquake, immediately after the first team rotated out. From Port-au-Prince, we traveled 90 minutes on a semi-paved road to Saint-Marc, a town of just under 200,000. There we found St. Nicolas Hospital, a collection of single-story buildings, busting at the seams with patients. Amid an influx of transferred patients, we ran the operating rooms, staffed the emergency department, and performed patient rounds, all while improvising with makeshift solutions, such as using masking tape to number the beds and craft patient wristbands.
For ten days, I worked as the only emergency medicine specialist with a team of surgeons, orthopedic surgeons, anesthesiologists, and nurses in chaotic conditions. Together with our Haitian colleagues, we treated more than 500 patients needing wound care, amputations, skin grafts, and pain alleviation. We also dealt with routine emergencies like childbirth, trauma, and acute exacerbation of chronic conditions.
My stint on the front lines left a deep impression of how much remains to be done in Haiti. We need to place a priority on shoring up the country's devastated medical infrastructure. This involves a critical examination of its medical and nursing education and training systems. In addition, to sending U.S. health care providers to provide ongoing relief, we need to think about rebuilding their capacity and train local community health workers to tackle top public health priorities.
Less obvious to many people is the profound psychological toll that Haitians will be grappling with for years to come. Most surviving trauma victims suffered limb-threatening injuries, creating a need for prosthetics, ongoing orthopedic care, and rehabilitation. The discrimination and social stigma that comes with this vulnerability—along with the consequences of widespread post-traumatic stress disorder—will demand comprehensive psychological treatment. Rebuilding Haiti will require the hope, resilience, and strength of the Haitian people as well as the long-term commitment that the world has promised.
Christian Arbelaez, MD, MPH, is an HMS assistant professor of medicine at Brigham and Women's Hospital.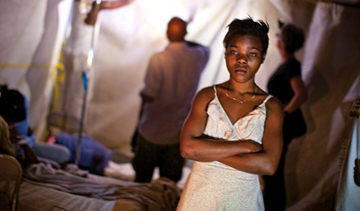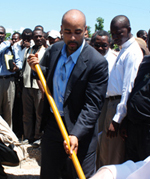 David Walton
The earthquake's destruction to the General Hospital in Port-au-Prince was breathtaking. In Harvard terms, imagine what it would be like if not just the medical school but also the entire university and all the affiliated hospitals were lost—gone in an instant, along with all the people who worked at those institutions.
Immediately after the earthquake it was my role to coordinate the work of nongovernmental organizations with the General Hospital. With only part of the hospital still standing, most medical care took place in tents. To address the initial shortage of Haitian orthopedic and trauma surgeons, we reached out to HMS faculty. The response was tremendous. Dozens of Harvard physicians and nurses provided on-site aid in those critical first few weeks.
Before the earthquake, the Haitian Ministry of Health had asked Partners In Health to build a community hospital in central Haiti to serve an area with roughly 160,000 inhabitants. Since medical infrastructure is a specialty of mine, I was overseeing that project. Then the earthquake hit—and changed our plans in two ways.
First, because the now-disabled General Hospital in Port-au-Prince had been the major teaching hospital for the entire country, we were asked to redesign the new hospital for education. We increased ward space, added a second floor, and changed our overall design to accommodate teaching for medical students, nursing students, and resident physicians. Second, we were asked to enlarge the hospital to 180,000 square feet to make room for 320 beds, six operating rooms, an intensive care unit, an endoscopy suite, and women's health and ambulatory care units.
We broke ground for the National Teaching Hospital in Mirebalais this past summer. We'll soon have the main buildings well under way, and by late spring we'll be installing equipment. We hope to accept patients by the end of 2011. Even though this will be Haiti's state-of-the-art hospital, it will only begin to address the country's medical needs. After all, 320 beds must serve hundreds of thousands of people. Haiti needs several dozen such hospitals.
David Walton '03 is an HMS instructor in medicine at Brigham and Women's Hospital and deputy chief of mission for Partners In Health.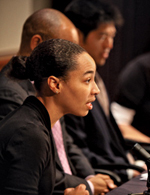 Claire Pierre
We arrived in Haiti three days after the earthquake to find a scene of unimaginable suffering and chaos. As one of the first on-site medical personnel, I provided triage for clinical and surgical teams—usually through the night. As a Haitian citizen, I witnessed my country's loss not only of physical structures, but also of human capacity.
After those first few horrifying days, I went on to collaborate with nongovernmental organizations and major donors to assist government officials with triage. More than ever, Haiti needs partners, groups, and individuals able to commit to long-term reconstruction efforts. While it is obvious that my country needs a whole new health care system, it also cries out for a new educational system and a revamped economic infrastructure.
One lesson the earthquake taught us is that, for Haiti, decentralization is key. But such decentralization will require an expansion of training opportunities. To open a rural, locally run clinic, for instance, would require not only recruiting Haitian doctors, but also training secretaries, administrators, maintenance workers, and custodians.
Haiti is home to wonder­ful nongovernmental organ­izations—more than most developing countries. Without them, many people would not receive care. But these organizations take a patchwork approach—one that has achieved some fascinating and in many cases lifesaving projects yet has failed to build a core of fundamental services.
In one area, organizations raised money to build schools—complete with sports programs—up to the sixth grade. Yet no high school exists because fundraising for adolescents has proved so much more challenging than fundraising for young children. Such gaps compromise Haiti's long-term stability.
By diversifying their interests and partnering with the public sector rather than creating separate, parallel structures, those organizations could provide more children with access to the basic services they need to grow into productive citizens.
People don't simply live in Haiti; they survive in Haiti. To help Haiti, we must think about children born after the earthquake. How can we give them opportunities to thrive? We shouldn't just look at a Haitian child as someone to help, but as someone who will one day become the helper.
Claire Pierre, MD, is an HMS instructor in medicine at Cambridge Health Alliance.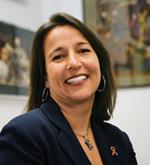 Joia Mukherjee
I can't overstate the horrors that occurred when the earthquake struck or the dire needs that remain. After all I witnessed it took me months before I could sleep through the night.
In the aftermath, I spent much of my time coordinating Partners In Health's efforts to bring health services to people displaced or subsisting in camps, where infectious diseases and other health problems have been overwhelming. By coordinating our efforts, we were able to partner with both local community groups and the Haitian government.
These camps are enormous, with populations often surpassing 50,000 people. To provide medical care at such epic proportions and under such difficult conditions, we hired Haitian doctors and nurses who were suddenly unemployed. Essentially, we hired displaced medical personnel to help displaced people.
In rebuilding Haiti, one area that demands attention is medical education. Most of the volunteer physicians and surgeons we recruited were from academic medical centers. Drawing on the expertise of HMS faculty members as both doctors and educators could provide a major boost to medical education in Haiti.
We envision creating a primary-care residency program there that involves recruiting physicians from Harvard and elsewhere to train Haitian doctors. Ideally, we'd like to start with a residency program—a collaboration among HMS, other U.S.-based universities, and the now nearly decimated National Medical School in Haiti—to train a dozen Haitian doctors a year. Remember that before the earthquake, Haiti had one doctor for every 11,000 people. With proper funding, this program would have an enduring impact on Haiti's reconstructed medical infrastructure.
Joia Mukherjee, MD, is an HMS associate professor of medicine at Brigham and Women's Hospital and chief medical officer for Partners In Health.