During the Communist-inspired revolution that swept Cambodia in the 1970s, more than 1.7 million people died. Among the many slogans driving the Khmer Rouge, the revolution's guerilla force, and its leader, Pol Pot, was one that declared, "What is rotten must be removed."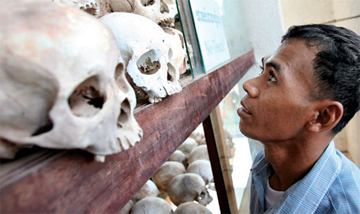 In their quest to remove all people they considered rotten, the Khmer guerillas inflicted a legacy of brutality on those who survived. For some, that continuing cruelty has taken the form of olfactory-induced panic, triggered by such trauma-laden smells as decaying bodies, gas-fueled pyres, and the sulfur and charred vegetation of mortar attacks. Many survivors are so shackled to these olfactory memories that a whiff of the most innocent odor—composting trash, fumes escaping a car's gas tank, a burning cigarette—pulls them into panicked states of vivid recall.
To understand better the mechanisms behind olfactory-induced panic attacks, Devon Hinton, an HMS associate clinical professor of psychiatry at Massachusetts General Hospital, interviewed Cambodian refugees whose attacks had led them to a psychiatric clinic in Lowell, Massachusetts. Hinton, together with collaborator Mark Pollack, an HMS professor of psychiatry at the hospital, uncovered a complex network of causes—a multimodal model that combined symbolic, social, and psychological influences.
To help sufferers gain control of their flashbacks, the researchers recommended a therapeutic schema that included teaching victims to graft troubling odors to pleasant experiences, to develop a coherent narrative for discussing their fears, and to practice mindfulness exercises for relaxation and control.
The scientists also called for more investigations into olfactory-triggered panic attacks and their influence on victims of trauma and post-traumatic stress disorder.