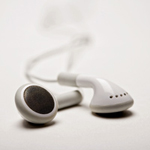 Teens today don't hear as well as they used to. So say researchers at Brigham and Women's Hospital, who reported that hearing loss in adolescents has increased during the past 15 years.
Hearing loss is a common and under-recognized public health problem that can undermine a child's educational, psychological, and social development. The study, led by Josef Shargorodsky, an HMS clinical fellow in otology and laryngology at the hospital's Channing Laboratory, and published August 18 in JAMA, is one of the first to examine the prevalence of hearing loss among young people over time.
Studying recent and 20-year-old health data for people aged 12 to 19, researchers found that one in five contemporary adolescents shows some evidence of hearing loss, while one in 20 has at least mild hearing loss—respective increases of 31 percent and 77 percent.
The researchers cautioned that more study is needed to explain this erosion of hearing, but the popular media has a suspect on their playlist: the iPod's ubiquitous earbuds.