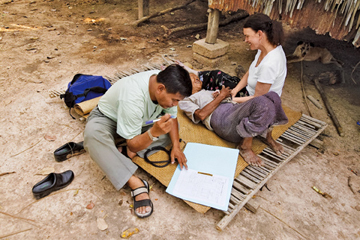 A new method of treating patients infected with both HIV and tuberculosis could save countless lives in the developing world, where nearly half a million people die every year from this deadly disease combination. The technique does not require expensive new therapies. It's a simple matter of timing.
Researchers working in Cambodia found that when they initiated an HIV regimen—known as highly active antiretroviral therapy—two weeks after beginning tuberculosis treatment, patients' risk of death fell 34 percent compared to the death risk rates among those starting after the standard eight weeks. The researchers presented their report at the 18th International AIDS Conference, held in July in Vienna.
Senior author Anne Goldfeld, HMS professor of medicine at Brigham and Women's Hospital, has described the two infections as a "match made in hell." An estimated 1.37 million people are infected with both diseases, and tuberculosis kills one quarter of all HIV-infected people.
Visit Harvard Medical School's Idea Lab, a virtual laboratory for sharing thoughts on biomedicine.