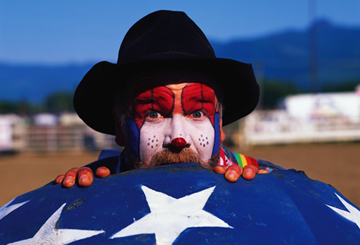 Bull riding has been called the most dangerous eight seconds in sport. Even my years as an offensive lineman in the National Football League couldn't have prepared me for the rough-and-tumble world of the rodeo. Now, as team physician for the Houston Livestock Show and Rodeo, I patch up not only cowboys, but also tough-as-nails rodeo clowns, who are just as likely to become unstitched.
Send in the clowns.
Rodeo clowns—also known as bull-fighters—are the first line of defense in the ring. When a rider is bucked off or jumps, the clowns run in to try to divert the bull. Their colorful makeup and clothing belie the dangers they face, and the padded vests they wear beneath their costumes provide only limited protection.
Be a good sport.
Most rodeo physicians stand in the ring, ready to scramble over the fence when a nearly one-ton bull charges. Because of my old football injuries, I wait behind the fence and enter the ring only to provide treatment. Naturally, my caution has led to some ribbing about being a football player who's afraid to face bulls.
Stitch in time.
As soon as the animals have cleared the ring, I rush in to evaluate the athletes. Under pressure not to delay the show, my team assesses injuries quickly. Whenever possible, we treat the cowboys and clowns immediately, and we even suture lacerations right in the stadium.
Treat the back-in-the-saddle-too-soon syndrome.
Rodeo cow-boys and clowns are the toughest athletes on the planet. Contusions and lacerations are their most common injuries, but we have also treated ACL tears and femur, facial, and rib fractures. Most of these guys don't make a dime if they don't compete, so they're anxious to get back in the saddle. I've witnessed cowboys competing with bicep ruptures, wrist fractures, and serious back spasms—injuries that would sideline jocks in other sports. We had to physically restrain one cowboy with a fractured thighbone. He kept saying, "Let me get up, man! I can walk this thing off."
Mark Adickes '00 is the team physician for the Houston Livestock Show and Rodeo, the Houston Rockets, and the U.S. Ski Team. He is also a co-medical director and orthopedic surgeon at the Memorial Hermann Sports Medicine Institute in Houston.