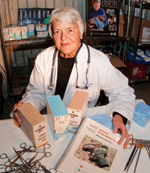 Preparing to dispense a medical team to care for victims of natural and man-made disasters starts well before you receive a call announcing a calamity.
Muster your troops.
Ninety percent of disaster response is being prepared for a disaster. The most important step is gathering in advance a complement of medical professionals. Our Boston-area volunteers, part of the U.S. government's International Medical Surgical Response Team, or IMSuRT, number around 250. When activated by the government, 50 of these IMSuRT members deploy with a fully equipped field hospital.
Prepare those troops.
Volunteers for federal disaster teams must be current with their immunizations and federalized in advance, which requires them to pass security checks and obtain special passports. Team members must also cultivate a "readiness mentality"; they must be endlessly inventive, instantly adaptive, and entirely self-reliant.
Be ready to go.
Keep trucks stocked with supplies, generators, and other equipment. Have pharmaceuticals and units of blood available on-call. Instruct volunteers to keep suitcases packed at all times with antidiarrheal medications, antibiotics, anti-inflammatories, work boots, long-sleeved shirts, bug spray, mosquito nets, toilet paper, candy bars, and coffee.
Establish response systems.
When a request-to-deploy call comes in, IMSuRT team members must be ready to depart within six to eight hours. Rapid notification of volunteers through email and by pager is the first priority, as they need time to ensure that their patient and family responsibilities are covered.
Sustain team members' spirits.
The psychological toll on volunteers can be high. They work in stark conditions without stop, and all too often they must triage severely injured patients for nothing more than palliative care. Emphasize self-care and remind team members that their colleagues are their best support.
Susan Briggs, MD, founder of the International Medical Surgical Response Team, directs Massachusetts General Hospital's International Trauma and Disaster Institute.