For those who enjoy political theater, the national health care debate has not disappointed. But good theater and cogent debate rarely coexist. To add a measure of thoughtful discussion to the mix, HMS Dean Jeffrey Flier invited a group of experts to debate the subject at the School in January.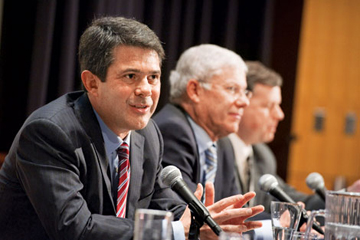 The presenters, with one exception, were not hopeful about the prospects of meaningful reform, citing impediments ranging from a flawed funding structure to a dysfunctional political process.
According to Allan Detsky '78, professor of health care policy at the University of Toronto, governmental structure is the main problem facing U.S. health care reform. He contended that it is far easier to approve legislation under a parliamentary system in which the executive and legislative branches are aligned within a majority government.
David Goldhill, author of an article in The Atlantic that indicts the nation's health care system, began exploring the health care industry after his elderly father died from a hospitalacquired infection. He views the recent bill as expanding a broken system focused on coverage, not care.
"Insurance is a form of finance," he explained. "It is the most administrative, costly, financially distortive form of financing that exists. This is why, outside of health care, insurance is only used for things that are rare, unpredictable, and major. In health care we use insurance for everything."
Goldhill's recommendations for reform include establishing a national policy that would require people to save for their health care and pay for part of it, and drawing consumers into the system.
David Cutler, a Harvard professor of economics who was senior health care adviser to Barack Obama's presidential campaign, expressed cautious optimism. The answer to inefficiency and waste in the health care system, he said, is to target the supply side (providers), which would be more precise and effective than targeting the demand side (patients). Data show that hospital admissions drop when hospitals receive incentives not to keep patients for long periods. But if you target the demand side with price incentives, Cutler explained, patients often will not act in their best interests and instead switch to cheaper and less effective medications and therapies.
The recent plan, which includes some supply-side incentives, represents "a path, not a leap," Cutler cautioned. "Passing the legislation is only 15 percent of the challenge. The remaining 85 percent is making it work."
Daniel Kessler, the final speaker, disagreed with Cutler. A professor of management at Stanford University, Kessler claimed that the proposals would cause fiscal problems and that having health insurance does not necessarily improve health. The plan, he contended, would create another middle-class entitlement program; massive work disincentives by generating an implicit marginal tax rate; and openings for increased government involvement in people's private lives.
Kessler conceded, however, that he had no workable alternative to offer.