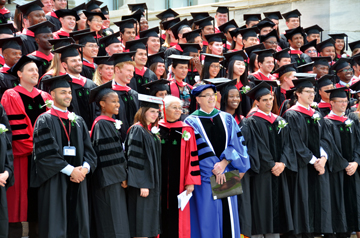 During Class Day this spring, heavy rains gave way to sunshine as the School's new graduates were congratulated, then reminded of their priv­ileged place in society and the responsibility that privi­lege brings. With humor and passion, speakers told of how the exper­ience of learning to care for patients was a humbling one that would not end with com­mence­­ment. Instead, physicians must embrace humility so that they continue to learn from their patients, to listen to their patients, and to speak and act on their patients' behalf.
Jeffrey Daniel Hurwitz Wessler '12 carried this theme through his remarks. Wessler, noting that medical school taught the student–physicians to "not take ourselves too seriously," expanded on the usefulness of humility by acknowledging that "each humbling loss of dignity comes coupled with a valuable piece of wisdom." He went on to thank his patients for those bits of wisdom, none of which, he said, were found in any of his textbooks.
"How can we best pay homage to the beauty of those patients who have touched our lives?" asked Imani Rafiki Anwisye '12 of herself and her classmates. Anwisye spoke of "the honor of sharing the most intimate details of a fellow human's trials, triumphs, and fears." Anwisye also spoke of the glimpses into the human condition that the graduates had witnessed, from the hope and joy of a new life to the "crushed, silenced, and broken" spirit of a patient "battered by circumstances of the world."
Commencement speaker Donald Berwick '72, an HMS lecturer on health care policy, kept the focus on humility by noting that, over the years, there would be patients who would stand out as teachers, those who "if you allow it—and you should allow it—will enter your soul, and you will, in a way entirely right and proper, love them." For Berwick, one of those patients was Isaiah, a child of an unforgiving inner city whom Berwick treated for leukemia. Although the treatment eventually cured Isaiah of the disease, Berwick said that uncon­trolled diabetes, and "even more, uncontrolled despair," conspired to end Isaiah's life at age 39.
Isaiah's story illustrated the two duties of the physician, Berwick said: to cure disease and to cure the injustice that contributes to disease. Patients, said Berwick, "need those in power—you—to say to others in power that a nation that fails to attend to the needs of those less fortunate among us risks its soul."