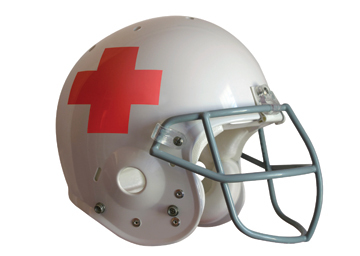 The National Football League Players Association (NFLPA) has awarded Harvard Medical School a $100 million grant to undertake a 10-year initiative to discover new approaches to diagnosing, treating, and preventing injuries and illnesses in both active and retired players. The Harvard Integrated Program to Protect and Improve the Health of NFLPA Members will marshal the intellectual, scientific, and medical expertise resident throughout Harvard University.
"Our goal is to transform the health of these athletes," says Lee Nadler '73, HMS dean for clinical and translational research, Virginia and D.K. Ludwig Professor of Medicine at Dana-Farber Cancer Institute, and director of Harvard Catalyst, who will direct the program. "In order to extend the life expectancy and quality of life of NFLPA members, we must understand the entire athlete, all the associated health risks, and all of their interactions."
Professional football players often develop severe disability related to a number of health problems, including consequences of head trauma, heart problems, diabetes, joint and other skeletal injuries, and psychological stress. Americans have become increasingly concerned about the risks posed by participation in contact sports. The program's goal is to improve the health and well-being of NFL players, while further elucidating the risks of participation in American football.
Joining Nadler as co-director is Ross Zafonte, Earl P. and Ida S. Charlton Professor of Physical Medicine and Rehabilitation and chair of physical medicine and rehabilitation at Spaulding Rehabilitation Hospital and Massachusetts General Hospital, and chief of physical medicine and rehabilitation at Brigham and Women's Hospital. Associate directors are William Meehan '02, director of the Micheli Center for Sports Injury Prevention, an HMS assistant professor of sports and emergency medicine, and director of the Sports Concussion Clinic at Boston Children's Hospital, and Alvaro Pascual-Leone, HMS associate dean for clinical and translational research, professor of neurology and director of the Berenson-Allen Center for Noninvasive Brain Stimulation at Beth Israel Deaconess Medical Center. Herman Taylor '80, professor of medicine and Shirley Professor for the Study of Health Disparities at the University of Mississippi Medical Center, and director of the Jackson Heart Study, is a co-investigator. Members of the Petrie-Flom Center at Harvard Law School will help address ethical, legal, and policy issues relevant to the health of current, future, and retired players.