On January 12, the ground beneath Louise Ivers began to shift. The HMS assistant professor of medicine and clinical director in Haiti for Partners In Health was in Port-au-Prince discussing disaster preparedness when a 7.0-magnitude earthquake struck. Dazed, Ivers watched as nearby buildings collapsed around her. As she picked herself up off the floor, a bystander's simple plea snapped her from her trance: "I wish someone was a doctor!" Ivers, like hundreds of other members of the Harvard medical community, has been responding to that call ever since.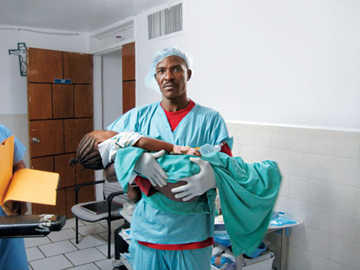 Stories such as this illustrate the "living links between Harvard and Haiti," says Paul Farmer '90, chair of the Department of Global Health and Social Medicine and cofounder of Partners In Health (PIH). Ties between PIH and the impoverished country run long and deep. The nonprofit organization has been working in Haiti for more than 20 years to help prevent and treat such diseases as AIDS and multidrug- resistant tuberculosis. When the quake hit, PIH—with its network of health services and workers—became a chief international resource for coordinating the emergency response. Although the group's own facilities were largely untouched by the quake, other medical institutions weren't so lucky: A nursing school—one of three in the country—was destroyed, killing some 150 students, nearly the entire second-year class.
Losses like this reinforce the need for international aid, says HMS Dean Jeffrey Flier. Much of that help has come from the Harvard community, with roughly 500 doctors and nurses offering assistance. The Harvard Humanitarian Initiative has coordinated a group of medical, surgical, and public health volunteers within Partners HealthCare System who have deployed to Haiti. Massachusetts General Hospital and Brigham and Women's Hospital have sent similar teams. Back at home, the University has established the Harvard Haiti Emergency Relief Fund for Employees, which collects donations from the Harvard community to provide financial assistance to the nearly 100 employees with family members in Haiti.
Meanwhile, PIH has expanded its focus to include long-term recovery and rebuilding initiatives and improving the country's public health system through the Stand with Haiti Fund.
"Haiti needs to be built back better and stronger than before," says Farmer. "A university like ours can offer its own brand of pragmatic solidarity and set the highest standards for research, teaching, and service."