If movement and a light touch can help us learn to train our brains to control body sensations, can they also enable chronic pain sufferers to learn to alleviate their own misery? To explore this theory, Catherine Kerr, an instructor in medicine at Beth Israel Deaconess Medical Center, turned to tai chi, a Chinese slow-motion meditative exercise that fosters body awareness by teaching its practitioners to focus on the movements and sensations of their bodies. In neurological terms, such concentration places an attentional spotlight on the body and contributes to complex motor learning.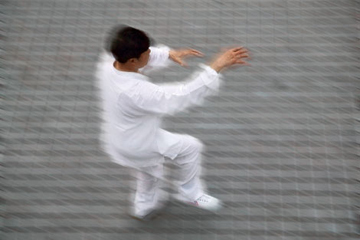 Kerr engaged a small group of seasoned tai chi practitioners in a movement regimen that encouraged them to focus attention on their extremities, particularly their fingertips. After several weeks, Kerr measured the tactile acuity of members of the group and matched controls. She found that the tai chi practitioners, particularly the older ones, had improved their ability to detect the subtle variations of a roughened surface with their fingertips, suggesting that body-awareness activities may enhance sensory acuity.
In related research, Kerr and colleagues at HMS and MIT assessed the literature on such touch-healing therapies as Reiki, therapeutic touch, and mindfulness meditation. They found signature elements of these practices to also be important to neural mechanisms of sensory reorganization.
The researchers speculated, for example, that the repeated tactile stimulation administered during touch healing helped guide attention away from existing pain, reduce stress, and deemphasize the expectation of pain. Together, these outcomes may allow the brain to rewire "maladaptive" cortical connections formed in response to unremitting pain. In addition, touch healing may be a preventive: Its practitioners can be taught how to avoid establishing neural connections that result in unending pain.
"Touch has been neglected as a source of health and healing," says Kerr. "I believe these studies begin to show how we might work with touch, not only to better understand touch healing, but also to help relieve suffering by addressing the cognitive aspect of pain."