Imagine you're driving to a beach hours from home when your son suddenly starts wheezing. Beads of sweat trickle down his forehead. He tries to speak but can only issue raspy coughs. You desperately scan the highway for a blue sign with a reassuring white "H," but no such sign appears.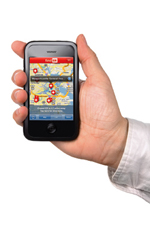 You quickly tap the findER icon on your iPhone and, within seconds, a map highlighting the nearest emergency departments flashes into view. You hit an icon for a hospital just a few miles away and, following the directions, race your child to medical help.
Researchers at Massachusetts General Hospital Emergency Medicine Network, or EMNet, recently launched the findER application to help people in just such emergencies.
"FindER accesses information on the nearly 5,000 emergency departments in EMNet's database, which is the most complete and accurate in the nation," says Carlos Camargo, the network's director and an HMS associate professor of medicine at Massachusetts General Hospital.
Along with directions and general information, findER offers on-screen options for users to call hospitals directly and even to reach emergency care personnel. To download the free application from the iTunes app store, search for "EMNet findER."