For first-grader Olivia Quigley, the school day began like any other. But it suddenly became far less ordinary when, in gym class, Olivia collapsed on the basketball court. Within minutes, she was lifted into an ambulance and raced to Massachusetts General Hospital with a diagnosis of sudden cardiac arrest. As her parents hovered anxiously, the emergency staff sprang into action to save the six-year-old.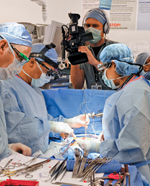 Mass General surgeons implanted a defibrillator, and Olivia received rehabilitation therapy. Other than suffering minor speech and memory impairments, she has made a remarkable recovery.
Olivia's story and those of dozens of others were recounted on Boston Med, a documentary drama that aired this past summer on ABC. The eight-hour series, filmed over four months, followed physicians, nurses, and patients at three Harvard-affiliated hospitals: Brigham and Women's Hospital, Children's Hospital Boston, and Mass General. The series depicts a range of crises, from an infant born with a heart defect to a pregnant woman shot in the chest, a sixteen-year-old awaiting a heart transplant, and a man facing treatment for mesothelioma.
"We spent a great deal of time thinking about and weighing the various risks and benefits of participating in such a long-term, intense project," says Peter Slavin, president of Mass General. "Ultimately, our decision to participate was based on the incredible opportunity to shine a spotlight on the many dimensions of academic medicine."
"Boston Med is about some extraordinary places where critical decisions are commonplace, where poignant moments abound, where failures can devastate, and where triumphs are savored," Slavin adds. "The stories that emerge from these places are heartwarming, heart wrenching, and heartening. And they deserve to be told."
Episodes can be viewed online at abc.go.com