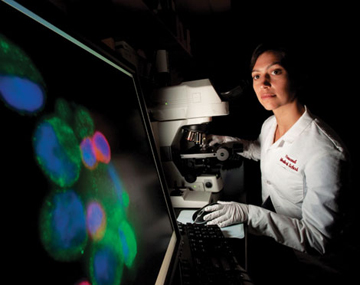 Harvard medical school will soon launch a new component of medical education reform: the Scholars in Medicine Program. Starting with the class entering this fall, every medical student will be required to undertake a scholarly project. According to the program's director, Gordon Strewler '71, projects will run the gamut of inquiry, from molecular biology to the history of medicine.
The goal, Strewler says, is to hone students' critical thinking and foster curiosity while equipping them with tools for discovery. "Students will not only master knowledge, but also help create it—in the form of a written work, perhaps even a publication," says Strewler, an HMS professor of medicine at Beth Israel Deaconess Medical Center.
First–year medical students will identify a mentor and an idea for a summer scholarly project, then submit a proposal. While this effort may evolve into a definitive project, one that will take four to twelve months to complete, students have the option of pursuing a different project later on, perhaps one related to a joint degree.
"Faculty and students alike can reap tremendous rewards from the bonds that form while working together," Strewler says. "Were it not for my own mentors, I might never have studied endocrinology."
According to HMS Dean Jeffrey Flier, faculty engagement in the program promises rewarding returns from ambitious, creative students. "It's often said that science is a family tree, and that every scientist descends from a unique pedigree of mentors and advisors," Flier says. "In turn, we leave a legacy—not only our ideas and discoveries, but also a group of trainees to whom we have passed the torch. At this great medical school, we have a rich tradition of paying our debt of knowledge forward."