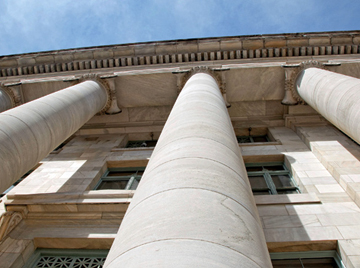 A third-year Harvard medical student stares at her computer screen, poised to register for courses. She has already taken required classes and research electives. She would like to sign up for gynecologic oncology, but first wants to know whether her instructors have financial ties to the pharmaceutical industry. Within seconds of clicking a link from the HMS homepage, she's reviewing a list of faculty members' financial interests.
This capability does not yet exist—but it soon will, just one of many changes resulting from the School's updated conflicts-of-interest (COI) policy, which goes into effect on a rolling basis beginning in January 2011. Access to an online disclosure resource will soon be the norm for anyone who wants to explore an HMS faculty member's financial ties to industry. The new site, as well as all other aspects of the COI policy, will emphasize transparency, serving to reduce even the appearance of inappropriate industry influence.
The revision of the existing COI policy began in early 2009, when HMS Dean Jeffrey Flier convened a committee of more than 30 faculty and students to critique the HMS Policy on Conflicts of Interest and Commitment. The committee presented its recommendations to Flier in the spring of 2010; by July, he had reviewed and accepted those recommendations.
"At HMS, we have a proud history of unwavering commitment to high professional standards of ethical conduct," Flier says. "Within and outside industry, many recognize that industry and academia must seek a new model of academia–industry collaboration to achieve greater success at discovery and development of new treatments while fully protecting academic values and those of the medical profession. We must create a culture that is open to creative new approaches to collaboration on scientific development, based on transparency, rather than one that makes novel interactions more difficult."
While reaffirming that academia–industry collaborations are key to turning laboratory discoveries into patient therapies, the committee's recommendations emphasized the need to avoid marketing influences from industry.
"HMS faculty are committed to the highest ethical standards in research, patient care, and the education of current and future health care providers," says Robert Mayer '69, the Stephen B. Kay Family Professor of Medicine at Dana–Farber Cancer Institute and chair of the Standing Committee on Conflicts of Interest and Commitment. "We believe that these policy revisions will guide them as they fulfill their commitment."
For more information, visit hms.harvard.edu/public/coi.
Key Guidelines
Create
a uniform and accessible reporting system for faculty at Harvard Medical School and its affiliated institutions.
Develop
an education and disclosure monitoring system to help faculty understand and adhere to the new policy requirements.
Prohibit
faculty from accepting personal gifts, travel, and meals from industry, other than travel and meals provided in the course of allowed activities.
Ensure
academic independence in the creation and delivery of continuing medical education course content, limit industry funding for courses so that no one sponsor funds more than half a course, and restrict industry advertising and exhibitions at continuing medical education events.
Ensure
that all relevant faculty financial interests are disclosed publicly, on the Harvard Catalyst website.
Prohibit
faculty participation in industry speakers' bureaus and faculty acceptance of compensation for any speaking engagement that limits the faculty member's intellectual independence in presenting content.