Medical students eager for clinical experience in primary care have taken proactive learning to a whole new level. The student-designed Crimson Care Collaborative, a practice run by both faculty and students at Massachusetts General Hospital, has a twofold mission: to enrich medical education in primary care and to expand access to primary-care services for both insured and uninsured patients. Students and their preceptors recently opened the doors of the new collaborative.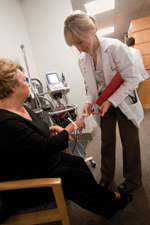 "The idea that students could be mobilized to address the crisis over the lack of access to primary care is very appealing," says Camille Powe '11, whose ideas helped lay the groundwork last fall. "It was easy to recruit students; we were inundated from the start."
The student–faculty collaborative practice aims to nurture enduring relationships, says David Bayne '11. Every patient sees a physician, but students follow the patients over time. Patients can also access social services. "Our strategy is to see patients who don't have doctors, then to link them up with a more permanent primary-care provider," Bayne says. "That's a big part of our mission: providing a bridge to care."
The Crimson Care Collaborative was conceived by Rebecca Berman '05, an HMS instructor in medicine at Mass General and a physician fellow at the hospital's John D. Stoeckle Center for Primary Care Innovation. Enlisted by the center to promote student interest in primary care, Berman reports that candidates for internal medicine residencies who have had experience in student clinics at other schools typically rave about them. HMS has never had a clinic that engaged students in weaving a health care safety net for patients. But given the requirements for health insurance now in effect for Massachusetts residents, Berman says, the influx of newly insured patients has overwhelmed Massachusetts' primary-care providers, and HMS students are eager to address the shortage of practitioners.
Under Berman's guidance, a nucleus of students shaped the clinic's practice model; more than a hundred students have been involved since planning began in the fall of 2009. Patients are seen initially by first- or second-year students who take vital signs; third- and fourth-year students complete medical histories and conduct physical exams. Berman works with the students in developing each patient's treatment plans. "The clinic will cater to urgent-care patients as well as patients who lack a primary-care doctor," Berman says.
Meanwhile, the students have their eyes on the bigger picture. "Primary care can help solve the problems we have with our health care system," Powe says. "If people have good relationships with their primary-care providers, they're less likely to get a lot of unnecessary tests and specialty treatments, and they won't go to emergency departments as often. Better access to primary care is economical, and it's also better for patients' health."
"Our students are designing a model to increase access to primary care across the country," Berman says. "Harvard creates leaders, and we need leaders in primary care."