This May, one of Harvard Medical School's distinguished graduates is returning to the fold. After a decade-long stint at Eli Lilly and Company, where most recently he served as senior vice president for discovery research and clinical investigation, William Chin '72 will rejoin HMS as executive dean for research. In this newly created position, the molecular endocrinologist will have overarching responsibility for the School's biomedical investigation.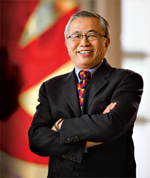 In his new role, Chin will spearhead efforts to design and implement a vision for research at HMS, focusing on interdisciplinary investigations that cross departmental and institutional boundaries and advance translational research and therapeutics. He will also hold an academic appointment as an HMS professor of medicine.
Chin has had a long and deep relationship with his alma mater and its affiliates. After training at Beth Israel Hospital and Massachusetts General Hospital, he served on the faculty in the Department of Medicine at Brigham and Women's Hospital. He later became chief of the genetics division at that hospital, as well as a Howard Hughes Medical Institute investigator and a professor of medicine and of obstetrics, gynecology, and reproductive biology at HMS. Chin has published nearly 300 papers, chapters, and books and has received numerous awards for his research and mentorship.
Many of Chin's investigations have exemplified the concept of translational research, applying basic scientific discoveries to animals and, ultimately, humans. This approach, says HMS Dean Jeffrey Flier, makes Chin a fitting choice to develop and guide new research initiatives. "One of Bill's highest priorities," Flier says, "will be to help find new ways to transform the world's most vital biomedical research into therapies that can directly improve human health."
At a time when industry ties to academe are under scrutiny, Flier adds, Chin's experience at Lilly will serve HMS well. Chin will develop a coherent strategy for the School's scientific interaction with industry, ensuring that it adheres to the HMS Faculty Policy on Conflicts of Interest and Commitment. "There are very few people capable of rising to meet such challenges," says Flier. "I'm thrilled that Bill will be joining the HMS leadership team."