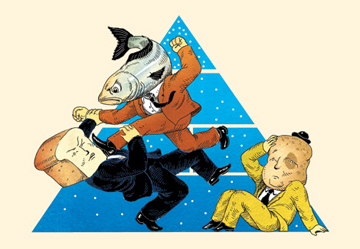 First, forget the word diet. The new buzz is that we don't diet to lose weight; we eat smart to live long and well. David Eisenberg '80, the Bernard Osher Associate Professor of Medicine at HMS, believes that one route to persuading the general population to eat well is to teach health professionals how to cook smart. So each spring Eisenberg hosts Healthy Kitchens, Healthy Lives, a conference in Napa Valley. This collaboration between Harvard Medical School and the Culinary Institute of America aims to improve what Eisenberg calls the culinary literacy of health care professionals. "Doctors' diets are no better than that of the average American," he says. "But if we learn to cook smart and eat smart, we can model a healthful diet for our patients."
1. Get Cooking
Master basic healthful cooking techniques. Learn how to chop and chiffonade, to stir-fry and steam, to bake and broil. Invest in quality knives and good pots and pans. Buy cookbooks that inspire you. Watch a cooking show or, better yet, take a hands-on class. The more enthusiastically you delve into the culinary arts, the more likely you are to develop a healthful approach to food.
2. Maintain Perspective
Even healthy eaters sometimes overeat. Rethink the portions on your plate, eat slowly, and stop when you're full. Remember that a three-ounce serving of protein, which is ample, is the size of a deck of cards.
3. Get the Whole Story
Avoid heavily processed foods and those with a high-glycemic index. Learn to love nutrient-packed whole grains, such as brown rice and quinoa. Try kasha and kamut, and switch from white bread and white pasta to whole-grain bread and enriched wheat flour. Incorporate beans, seeds, and nuts—think hummus and peanut butter—into your daily diet. Choose sweet potatoes instead of white potatoes; opt for whole fruits rather than fruit juice. Toss a cup of leftover vegetables into sauces and soups.
4. Chew the Fat
All fats are not created equal, and research shows that low-fat diets do more harm than good. Rather than trying to banish fats from your diet, cook and flavor your food with high-quality plant oils, such as canola, sunflower, and olive oil.
5. Go Fish
Substitute a seafood dish for meat at least twice a week. Your heart will benefit from the extra boost in omega-3s; research suggests that eating just six ounces a week of fatty fish, such as salmon or sardines, may be enough to reduce your risk of dying from heart disease by 36 percent. You can also aim for the prescribed daily minimum of 250 milligrams of omega-3s by sprinkling a handful of walnuts or flaxseeds on your salad.
6. Chase a Rainbow
Each day, at every meal, eat something colorful: fruits and vegetables in red, orange, yellow, dark green, or blue. The deeper the color, the higher the nutritional value. Diets rich in fruits and vegetables can decrease your chances of having a heart attack or stroke, protect you against some types of cancers, lower your blood pressure, and help ward off cataracts and macular degeneration. Pick at least one day of the week to eat vegetarian. And remember that no single fruit or vegetable provides all the nutrients you need for good health; variety is key.
7. Think Globally
Sampling traditional fare from around the world. Many cuisines, from the highly touted Mediterranean diet to a range of Asian and Latin American gastronomies, represent rich, delicious sources of inspiration for cooking with fruits, vegetables, whole grains, legumes, and nuts—foods that should be emphasized in any healthful diet.