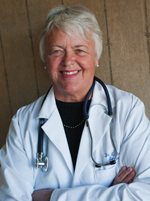 Preparing to dispense medical care to people traumatized by natural and man-made disasters starts well before the call announcing the calamity, says Susan Briggs. It starts with developing a mindset for what it means to be ready to deploy at any time.
"You have to be self-sufficient," says Briggs, a surgeon who directs Massachusetts General Hospital's International Trauma and Disaster Institute.
That self-sufficiency begins with learning to function beyond your medical specialty and becoming comfortable with being a "tiny cog in a massive wheel" of the command and control structure of disaster response. Physicians must shed their usual approach to medical care, Briggs says, and prepare to "do the greatest good for the greatest number of people."
How do you prepare to deploy?
I would say that 90 percent of what we do is really disaster preparedness. You have to cultivate a mentality of being ready to go at the first ring of a phone call. You must also have the mindset of total self-sufficiency. Too many people go to disasters expecting the devastated country to take care of them. Where's my water? Where's my shelter? That doesn't work. So preparedness is really critical.
The volunteers of IMSuRT—the International Medical Surgical Response Team—spend a lot of time training, which is why I developed a book for disaster teams—The ABCs of Disaster Medical Response: Manual for Providers. Volunteers must realize that while they might be wonderfully skilled in their specialties, they must work as a part of an interdisciplinary team and know the basics of disaster response, such as command and control. In disaster response, you're just a tiny cog in a massive wheel. If you don't understand how to triage in altered standards of care, or in crisis management time, then you won't be any good.
To work in crisis management requires a fundamental change in thinking about how to care for patients. The key to responding to medical disasters is to be prepared to do the greatest good for the greatest number of people. In a disaster zone, you can't afford to spend enormous amounts of time trying to save individual patients when you know they won't survive and you have a thousand other people to care for. Your job is to take care of people with the greatest chance of living. And that's often not the most severely injured. That reality can take a huge emotional toll on caregivers.
You also can't remain in your comfort zone. I can't just perform surgery, for example. I have to learn how to be a triage officer and how to interact with other team members to achieve surge capacity. If it's an orthopedic case, the general surgeons scrub. If it's a sick kid, one with neonatal tetanus, we might need to hand-ventilate. We learn to do things we wouldn't normally do in order to be a better disaster team.
What are the requirements for team members?
We have strict criteria. Team members must be very competent in their specialties; disasters aren't the time to learn how to be a doctor. Volunteers must be working in a clinical setting and be board certified.
When we recruit new team members, I explain that flexibility is key. Some people are very competent but not flexible. They only want to do their little thing. I've been everything from pharmacy tech to team commander. Volunteers have to have a sense of humor, too, because they spend a lot of stressful time with other members of their disaster team.
Civilians staff our field hospitals and our teams. So in practical terms, volunteers must be federalized well in advance of deployment. To become federalized, you go through the same sort of application process that the military and other government employees go through, complete with security checks and background checks. The government classifies disaster team members as "intermittent" federal employees.
Being federalized allows you to work under the auspices of any state government, just like the military. If you're licensed in one state, you're automatically licensed in all states. Being federalized also provides disability coverage, which is important for nurses and other medical professionals who aren't hospital based; those of us who work in hospitals carry disability. And it provides us with official passports that allow us to respond internationally to requests from the U.S. government to work either alone or with the military.
What's the first thing you do when you get a call to deploy?
When we get that call, we have six to eight hours before departure. I recently stepped down from my surgery practice after 35 years to devote myself full time to teaching and to the Center for Global Health at Massachusetts General Hospital. But when I maintained a practice and would receive a call to a catastrophe, I would call my secretary at home and say, "Mary, guess what?" And then she would start rescheduling patient appointments while I found coverage for my academic and speaking responsibilities.
One of the interesting things is that your patients actually get to know that you volunteer for medical deployments. I had a large general and vascular surgery practice. When a disaster would hit the news, my patients would call the office and ask, "Has Dr. Briggs gone?" They liked being part of it. They felt like they were contributing.
What about your hospital's support?
The support of your home institution is critical. And increasingly now hospitals realize that humanitarian response is good for their mission. Doctors love it and patients love it.
The chief of surgery and the head of Mass General have always been supportive of my participation in disaster response. My partners have always been supportive, too. We kid that they play golf while I do disasters.
Mass General is one of the team's sponsors. There's a commitment from the institution that people will cover for you, and that's very important if you're going to do the kind of work we do. I was in Haiti for almost five weeks, for example. The people at home are just as important as those of us who travel to the disaster.
Many times when volunteers want to go, though, there's just no coverage. The reality is, no one would leave a home institution in the lurch. It's different when you're dealing with patients. This can be the case, say, if a disaster happens on a holiday weekend. So we maintain a big roster—250 people on our team alone. And we backfill from the other two IMSuRT teams.
I would never leave my own institution in a precarious place. That wouldn't be ethical, no matter how much I wanted to respond. National Guard members must respond; they don't have an option. We do.
You must have a good deal of logistical support as well.
We do. We keep all our equipment stored. Our trucks stay loaded, so they can go immediately onto a plane or be driven to the disaster site if feasible. We carry everything to be able to maintain total independence as a field hospital; we're never a burden to the country we visit.
Logistics are critical. A core of our team is our logistics staff, and a Washington-based logistics team supplements its work. We never used to have all this. In fact, when we first started, we used to beg and borrow from all the hospitals because we had no budget for disaster equipment. For three years, I stored the equipment in my basement. In our early years, whenever a disaster involved us, I'd call Mass General for equipment donations, while other team members called Boston City Hospital [now Boston Medical Center], Children's Hospital, and other hospitals. We simply had no budget in those days.
We have an extensive cache of equipment all ready to go. We keep everything pre-packaged in suitcases, with the exception of the few medications that need refrigeration. For those, we call the Mass General pharmacy. We now have a backup pharmacy with the federal government, but the Mass General pharmacy sustains us and rotates the drugs following FDA guidelines. And we have an agreement with our local blood bank, which sends us out the door with 50 units of blood, then calls the Red Cross to be re-supplied.
How do team members protect their own health?
All team members must stay current on their shots. The National Disaster Medical System has simple requirements: hepatitis A, hepatitis B, tetanus. We've added a number of immunizations at the recommendation of Mass General's travel clinic, including those for typhoid, yellow fever, and meningococcal meningitis. In addition to working with the travel clinic, we consult with the Centers for Disease Control and Prevention to determine which vaccinations we're most likely to need. We have our own consultant at Mass General's travel clinic, Edward Ryan ['88, director of the Tropical and Geographic Medicine Center]. When we get deployed, I immediately call him or his coverage if it's a location I'm not familiar with. The CDC website, though it's intended for travelers, also has information.
I carry Ciproflaxin, which is a good starting medication for a number of illnesses. I also carry antidiarrheals, and I take prednisone in case anyone has an anaphylactic reaction. We also have a "sick-call kit" that we developed with our pharmacists. Anytime we travel, we take it to treat team members, because protecting the team is essential.
One of the realities is that most people who deploy have been working full time—and then they're suddenly boarding a plane. They're tired; they're hungry. If you don't protect your team, it's not fair to them—and they won't be able to take care of patients.
What else do you take?
You have to prepare for the austerity of the environment, so you take everything. I always take candy bars and coffee; I've learned that I cannot live without coffee. We take bug spray, mosquito nets, and our own medications. We also take toilet paper, because you can never find it. We take soap, especially the kind that doesn't need water. I recommend a rolled sleeping mat because you may be sleeping on the ground or on a cot.
We carry our own water, which the U.S. government supplies. The government also provides us with MREs, which are the meals-ready-to-eat kits that the military uses. We've learned that MREs have many uses. They can serve as heating coils, for example—we use them to warm babies just after birth.
We also take good, solid shoes and sturdy boots because a disaster zone is a contaminated environment. (In Haiti, the sewage ran right through the town.) We always wear long-sleeved shirts until we know whether a hazardous material threat is present.
When appropriate, I take a tropical medicine book, because we often encounter diseases we've never seen. When we went to St. Thomas, six members of a family presented with a very low pulse and very low blood pressure. The patients had no significant illnesses or history of trauma—nothing. Then a local nurse said, "This is ciguatera poisoning." We had no idea what that was. It turns out that ciguatera is a foodborne illness caused by eating certain reef fishes in the Caribbean that produce a neurotoxin. The nurse explained how we should treat it.
Such situations have taught us to integrate local people into our team. This helps us not only navigate cultural situations and nuances, but also deal with any endemic diseases we might encounter.
How do you prepare for differences in culture?
Part of our preparation is to learn about different cultures. You always hope you'll have a little information beforehand, but often you don't. When we went to Bam, Iran, after the 2003 earthquake, our team was asked, "Who has taken care of Muslim patients? What cultural mores should we observe?" One custom, for example, is for females to keep their heads covered. When we left Boston in January, we had wool caps because it was snowing. When we arrived it was 95 degrees Fahrenheit. So I took arm slings and we made them into bandanas. We also learned that in Iran women don't shake hands with men, which of course I always forgot. But if you make a mistake and then say, "Oh!", they understand that you're trying to be respectful of their customs.
Time zones mean nothing to you, do they?
No! Disasters don't follow any rules. No one can predict the time or the place. When Hurricane Katrina happened I was actually on my way back from lecturing at an international trauma and disaster conference in South Africa. I arrived at Logan Airport and saw on TV that Katrina had hit. I knew my beeper was going to go off. The hospital's administrative staff always knows where I am. And they're all very committed to our work at great cost to themselves.
So you pack your suitcase with items important to your physical well being, but what do you pack in your emotional suitcase?
Because I'm a trauma surgeon—and because I've done a lot of disaster work—I know it won't be easy for people who have never participated in a deployment. For instance, in disasters, you must deal with a type of patient few of us ever see, ones called expectant victims. For these patients you give palliative care because either you can't save them given your logistical constraints, or the numbers of patients who need care are too overwhelming.
In Haiti, for example, our team saw many children with neonatal tetanus due to lack of an effective immunization program pre-disaster. Many of these children required ventilators, and there were few pediatric ICU facilities in the country and only a limited number on the hospital ship, the USNS Comfort. Because space on the Comfort was limited, we often had to hand-ventilate babies for two or three days, hoping a space would open on the Comfort. Even with our efforts to hand-ventilate infants, there were times when a child would come in, and we could not provide even that minimal effort because of a lack of resources. We could only provide palliative care. This was very difficult for team members.
I try to prepare emotionally for deployments by getting as much information about the culture as I can. I know that my team members will do fine medically, so I focus on how to protect them emotionally. I know the effects of sleep deprivation, for example. And no matter how much you intellectualize what developing countries are like, until you've been to one and seen the conditions after a disaster, you can't comprehend the difference in standards of care. You can't suddenly make things better. When people are drinking out of water that pigs are pooping in—that's sometimes the reality. You have to learn how to work in a country, and you have to know you can't change the country. That's very hard for young people especially.
Obviously, I always think about the medical realities: How will we set up the tent? How will we structure our care? But the emotional well being of the team in an austere environment is my key priority. I know that many team members will have a hard time, and I know that many will get sick. My job as team leader is to keep them intact emotionally and physically.
Do you worry about team members suffering from post-traumatic stress disorder?
In all my years in disaster response, I have had only one person on the team develop full-blown PTSD, and that was a firefighter medic who had lost two kids from a house fire right before deploying to the disaster. It was at Ground Zero, and even though there were no children, it brought back memories.
One lesson we learned in the early days is to include mental health professionals—often social workers—on our team. We try to integrate them into the team from the beginning of the deployment; we don't want to wait until someone shows stress symptoms. We also emphasize self-care and use of the buddy system. I tell the team, "If you see someone decompensating, let me know." I have sent people home when the stress has become too much for them.
One of our best models has come from fire departments. Whenever they have a death, they talk about it among themselves. That's what we do. If we have a tough situation, like having to triage a child in Haiti to "expectant category" of care because of limited resources or extensive injuries, we would sit down and talk about it. And we would incorporate the mental health professionals in that meeting. People can talk out their fears. We find this is much better than waiting until someone gets home and must seek counseling from someone who hasn't been there. If team members develop a full-blown psychological disorder, then, of course, they need professional counseling. But one lesson disaster teams have learned from the military is that your colleagues are your best support.