News
How Rwanda Is Dramatically Expanding Its Health Workforce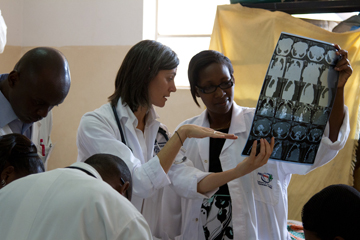 On the heels of a World Health Organization warning in Brazil last week that the world faces a shortage of 7.2 million health workers, a special report published Nov. 21 in the New England Journal of Medicine marks a pivot away from short-term missions and contracts toward long-term partnerships to bridge workforce gaps. The report details the largest-scale global health partnership ever initiated between American universities and a low-income country: Rwanda's Human Resources for Health Program.
Announced by Rwandan President Paul Kagame and former U.S. President Bill Clinton in 2012, Human Resources for Health is a seven-year, $150 million collaboration between the U.S. and Rwandan governments and 25 leading U.S. academic institutions. Former U.S. Global AIDS Coordinator and U.S. Ambassador for Global Health Diplomacy Eric Goosby—senior author on the article—launched the program in Kigali in 2012.
Under the program, each year more than 100 American health care professionals from medicine, nursing and midwifery, dentistry and health management work in Rwanda alongside Rwandan faculty to build residency programs, strengthen instruction quality and substantially increase the output of new health workers.
"Rwanda's example, and the Human Resources for Health Program in particular, have the potential to transform global health by serving as a model for any country that wants to increase the efficiency of foreign aid and improve the health of its people. The launch of this program has been the highlight of a decade of partnership, and I'm excited by its possibilities," said President Clinton.
Since 2000, Rwanda has reduced mortality due to HIV, tuberculosis and malaria by nearly 80 percent, and the country's life expectancy has more than doubled since the mid-1990s. As deaths from major infectious diseases have plummeted and as HIV patients live longer, chronic non-communicable diseases account for a growing proportion of Rwanda's disease burden—especially among the HIV-positive patient cohort, the researchers said.
Rwanda's Human Resources for Health Program will increase the number of Rwandan faculty available to train future health professionals. , the program aims to build the health education infrastructure and workforce needed to create a sustainable and advanced health care system.
"By simply reallocating existing funds, this partnership is allowing Rwanda to move from a brain drain to a brain gain of unprecedented magnitude in the health sector," said Agnes Binagwaho, Rwanda's Minister of Health, a senior lecturer in global health at Harvard Medical School and lead author of the article. "Together, we are training a highly skilled health workforce built to last, and equipping them with the tools they need to save lives. In essence, we are investing in Rwanda's greatest resource: its people."
The program's $150 million budget is comprised of reallocated funding from the U.S. President's Emergency Plan for AIDS Relief (PEPFAR) that is channeled directly to the Rwandan Ministry of Health, along with support from The Global Fund to Fight AIDS, Tuberculosis and Malaria. In what the authors describe as an unprecedented move to improve efficiency of existing foreign aid, the U.S. government redirected funds from projects completed by non-governmental organizations to the Ministry of Health, lowering administrative costs and freeing funds for the new program.
Because every American university partner agreed to no overhead and less than 7 percent administrative costs, Rwanda's Human Resources for Health Program represents a unique model for foreign aid focused on greater efficiency, country ownership and sustainable development, the authors said.
The Clinton Health Access Initiative has helped to convene the American consortium of schools and academic medical centers.
"At its very best, academic medicine integrates service delivery, teaching and research in a virtuous cycle. For Harvard and our many American partners in this consortium, contributing to this program has been an opportunity to not only serve and improve care delivery in Rwanda, but also to learn much that we can apply back in the United States," said Paul Farmer, co-founder of the nonprofit Partners In Health, Kolokotrones University Professor at Harvard University and chair of the HMS Department of Global Health and Social Medicine.
According to the plan, by the program's conclusion in 2018, Rwanda's specialist physician capacity will have more than tripled, and the proportion of the country's nurses with advanced training will have increased by more than 500 percent. The authors anticipate that an additional 550 physicians, 2,800 nurses and midwives, 300 oral health professionals and 150 health managers will have been newly trained in Rwanda—all of whom will have signed contracts to work in the country for a certain number of years based on the degree they obtain. Thereafter, the authors say, the Rwandan government plans to fully finance the health workforce and medical education system on its own.
Adapted from a Human Resources for Health Program news release.
Follow
HMS
Stay informed via email on the latest news, research, and media from Harvard Medical School.