News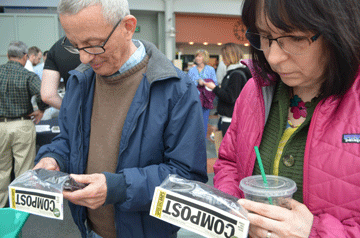 A sustainability fair was held on April 25 in the Courtyard Café in celebration of Earth Week at Harvard Medical School. The fair, part of a monthlong series of events and activities across Harvard University, showcased sustainable vendors and helped remind faculty, students and staff about ways to be more environmentally friendly on the Quad.
"The mission of the Green Team is the perfect fit with Harvard Medical School's mission," said Alicia Murchie, sustainability manager for the Longwood Campus. "Human health is directly related to the health of our planet and environment. I think that's why it's important for sustainability to be a priority for all of us who work and study here."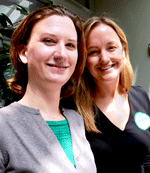 A volunteer group called the HMS Green Team, helps keep sustainability issues a priority throughout the year, working on projects from cafeteria composting, to environmentally-friendly laboratories, to promoting the purchase of "green" office supplies.
Green Team Chairperson Jennifer Bellows, project coordinator in the Office of Finance, says there are plenty of opportunities for staff to get involved in sustainability, and that the Green Team is always looking for volunteers and ideas.
"Even if you can't come to every Green Team meeting, you can volunteer to help take the lead in getting your office certified as a Green Office," said Bellows.
The Harvard Green Office Program is a four tiered, do-it-yourself program designed to be spearheaded by staff at Harvard who want to take the lead on greening their workspace.
University-wide, the Office for Sustainability, launched an Instagram and Twitter photo campaign for Earth Month, encouraging students, staff, and faculty to use the hashtag #GreenHarvard when posting pictures.
Irene Kolada, an HMS staff assistant attended the fair to learn more about sustainability.
"I try to reuse, recycle and reduce amount of trash I put into the waste stream," said Kolada. "It's not always easy in a throw-away culture, but I do it because it's important."
Follow
HMS
Stay informed via email on the latest news, research, and media from Harvard Medical School.