News
A gene mutation associated with several types of cancer may also be responsible for a rare but debilitating brain tumor called papillary craniopharyngioma, according to a team led by HMS investigators from Massachusetts General Hospital, Brigham and Women's Hospital, Dana-Farber Cancer Institute and the Broad Institute. The discovery, reported in Nature Genetics, could lead to new therapies for this currently hard-to-treat tumor.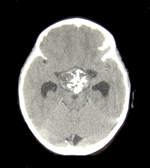 "We were delighted to find that the same BRAF mutation previously described in melanomas and other brain tumors appears to be driving the growth of these tumors," said Priscilla Brastianos, HMS instructor in medicine at Mass General, a research associate at the Broad Institute and co-corresponding author of the paper. "BRAF inhibitors have shown great promise in treating patients with other tumors with this mutation, and we hope to quickly evaluate these drugs in patients with papillary craniopharyngioma in hopes of reducing the serious consequences of this disease."
Craniopharyngiomas arise at the base of the skull adjacent to the pituitary gland, the hypothalamus and other critical brain structures. Although they are not inherently aggressive tumors, their location means they can significantly compromise vision and other neurologic and endocrine functions. The tumors cling to brain structures, making surgical removal challenging. Radiation therapy can cause vascular abnormalities or other tumors. 
There are two subtypes of craniopharyngiomas: adamantinomatous tumors, which are more common in children, and papillary tumors, usually seen in adults. Recent studies have linked mutations in the cancer-causing gene CTNNB1 with adamantinomatous tumors, but before this study, no information was available about the molecular drivers of the papillary subtype.
In their search for possible mutations associated with papillary tumors, the research team first performed whole exome sequencing of 12 adamantinomatous and three papillary craniopharyngiomas. The CTNNB1 mutation was found in 11 of the 12 adamantinomatous samples. For the first time, the well-known tumor-causing BRAF mutation was identified in all three papillary tumors. 
The researchers followed that finding with targeted genotyping of tumor samples from an additional 95 patients. Ninety-four percent of the papillary tumors they tested carried the BRAF mutation, while 96 percent of the adamantinomatous tumors had the CTNNB1 mutation. The investigators also confirmed that both types of tumors had very few other mutations. The BRAF or CTNNB1 mutations were present in all tumor cells, suggesting they occurred early in tumor development.
"There are currently no medical therapies available for craniopharyngiomas, but potent compounds that block BRAF signaling are in hand. So we are very hopeful that these targeted therapies can drastically alter the management of these tumors," said Sandro Santagata, HMS assistant professor of pathology at Brigham and Women's and a co-corresponding author of the paper. "Inhibitors of the signaling pathway controlled by CTNNB1 that are currently in clinical trials should be investigated for adamantinomatous tumors, and we're planning to evaluate the BRAF inhibitors that have had promising results against melanoma for treatment of papillary craniopharyngiomas."
Along with Brastianos, the co-lead authors of the report are Amaro Taylor-Weiner of the Broad Institute and Peter Manley, HMS instructor in pediatrics at Dana-Farber/Boston Children's Cancer and Blood Disorders Center. Co-senior authors are Mark Kieran, HMS associate professor of pediatrics at Dana-Farber/Boston Children's, and Gad Getz, HMS associate professor of pathology at Mass General and the Broad Institute. David Louis, the Benjamin Castleman Professor of Pathology at Mass General, also made significant contributions to the study, as did additional collaborators from Mass General, Brigham and Women's, Dana-Farber, Johns Hopkins University, the University of Pennsylvania and other institutions. 
Support for the study includes grants from Pedals for Pediatrics and the Jared Branfman Sunflowers for Life Foundation for Pediatric Brain and Spinal Cord Research.
Adapted from a Mass General news release.
Follow
HMS
Stay informed via email on the latest news, research, and media from Harvard Medical School.