News
The Future of Medicine at HMS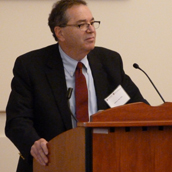 Sequestration, reduced funding for biomedical research and ongoing reverberations from the financial tremors of 2008 continue to put new constraints on the work of Harvard Medical School. But this is also a time of great potential -- to discover and implement new methods of delivering care and to develop new ways of thinking about the challenges of human health.
That was the message delivered by HMS Dean Jeffrey S. Flier at the 2013 Emeritus Faculty Luncheon on Oct. 4, as current leaders of Harvard Medical School met with dozens of emeritus faculty to celebrate a shared history of great accomplishment and to discuss the evolving path of HMS.
"This is a time of change and challenge, but it is also a time of tremendous opportunity," Jeffrey Flier, Dean of the Faculty of Medicine and Caroline Shields Walker Professor of Medicine, said.
Change and challenge, promise and possibility
Flier outlined a number of strategic shifts that the school is making to adapt, including new master's degree programs and a rethinking of the medical school curriculum as well as the recently announced major trans-University initiative, the Harvard Program in Therapeutics, known as HiTS.
"Anytime something is lost, we gain the chance to rethink, rebuild and renew, always with an eye to a stronger, more productive and secure future for this medical school," Flier said.
New vision for the MD curriculum
Jules Dienstag, dean for medical education and Carl W. Walter Professor of Medicine, outlined planned changes in medical education, which will include alterations in the configuration of classrooms, a rethinking of the timing of several elements of the curriculum, and innovations in the way information is delivered to students.
"There are better ways to teach and learn," Deinstag said.
The new curriculum will shift toward more-interactive learning modes that increase student engagement and capitalize on the world-class expertise of instructors, Dienstag said, and will focus on fostering problem solving and critical thinking.
Power of collaboration
In addition to innovating in education, the luncheon also highlighted ways that HMS faculty are working to innovate in discovery and implementation. Keynote speaker Donald Ingber, the Judah Folkman Professor of Vascular Biology in the Department of Pathology, is director of the Wyss Institute for Biologically Inspired Engineering, an independent research institute within Harvard University that is not affiliated with any school (but that counts many HMS faculty as members).
Ingber talked about how the Wyss is creating a new model for innovation, collaboration and technology translation, drawing together a diverse group of creative faculty members, technological innovators from industry, scientists and engineers.
Bringing these discussions of the future of the medical school full circle, Ronald G. Tompkins, the Sumner M. Redstone Professor of Surgery at Massachusetts General Hospital, celebrated the accomplishments of John F. Burke, a pioneer of burn surgery and tissue engineering who passed away in November 2011.               
"The experience, wisdom and creativity represented by our emeritus faculty are a tremendous resource for the medical school," said Maureen Connelly, dean for faculty affairs and assistant professor of Population Medicine. "The opportunity to join with them to look at the future of HMS is a highlight of the Emeritus luncheon."
Follow
HMS
Stay informed via email on the latest news, research, and media from Harvard Medical School.