News
With Fast Food, Consumers Get More than They Expect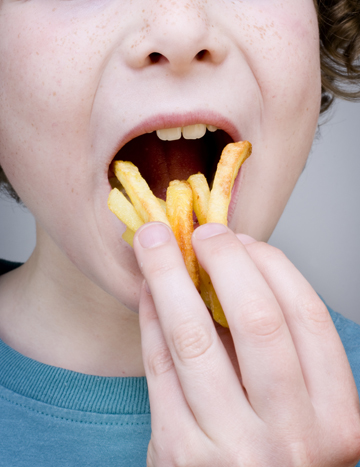 Diners at fast-food restaurants significantly underestimate the number of calories in their meals. Teens underestimated the most, believing that their orders had more than one-third fewer calories than the meals actually contained.
"We found that people, especially teens, are consuming more calories than they think they're getting when they eat fast food," said lead researcher Jason Block, an HMS assistant professor of population medicine at Harvard Pilgrim Health Care Institute.
The study is the first large-scale effort to examine the difference between the estimated and actual calorie content of foods purchased by adults, teens and children at fast-food restaurants. The results were published on May 24 in BMJ, a journal of the British Medical Association.  
Teens underestimate the number of calories in their meals by as much as 34 percent, parents of school-age children by as much as 23 percent, and other adults by as much as 20 percent. Block and colleagues surveyed nearly 3,400 adults, teens and school-age children in 2010 and 2011 at 89 fast-food restaurants in four New England cities.
The researchers found adults ordered meals containing 836 calories on average, but typically underestimated the calorie content of those meals by 175 calories. Teens had the largest gap—they underestimated the number of calories in their average order, which contained 756 calories, by 259 calories. Parents of school-age children underestimated their own orders, which contained an average of 733 calories, by 175 calories overall. Notably, one-quarter of all participants underestimated the calorie content of their meals by at least 500 calories.   
"We also saw differences by food chain," said Block. Subway patrons underestimated the number of calories in their orders by a larger amount than did patrons of McDonald's, Burger King, KFC, Wendy's and Dunkin' Donuts. Compared with McDonald's patrons, estimates provided by adults and teens who ate at Subway were 20 percent and 25 percent less accurate, respectively. Block suggested that Subway's branding may provide a "health halo" among the public.    
"These findings tell us that many people who eat at fast-food restaurants may not be making informed choices because they don't know how many calories they're consuming," said Block. "Having the information is an important first step for anyone wanting to make changes." At the time of Block's study, none of the chains his team analyzed routinely posted calorie information on their menus. 
This research was funded in part by the Robert Wood Johnson Foundation through its Healthy Eating Research program. It was conducted by the Harvard Medical School/Harvard Pilgrim Health Care Institute in conjunction with leaders of the Massachusetts and Connecticut Departments of Public Health.  Other program research published earlier this month found that diners buy meals with fewer calories when using calorie labels on in-store menus or menu boards at chain restaurants.
This story was adapted from a Robert Wood Johnson Foundation news release.
Follow
HMS
Stay informed via email on the latest news, research, and media from Harvard Medical School.