News
Family Van Looks to Road Ahead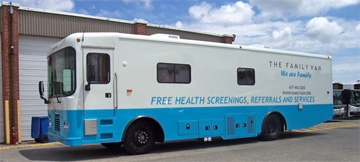 When your clinic has a steering wheel, the question will arise: Where do you go from here?
After operating successfully for 20 years, the Boston-based Family Van and its counterparts are all facing a similar issue. The mobile care providers have grown organically to address health disparities, but they still face their own, broader growth challenges.
"Currently [mobile medicine] has hit a glass ceiling," said Jeff Leitner, co-founder of Insight Labs. "It needs a way of understanding and reorganizing players in the system, so it can actualize its capabilities and be as potent as it needs to be within the system."
In search of ways to take the mobile health care concept to the next level, Jennifer Bennet reached out to Insight Labs, a Chicago foundation that convenes thought leaders on behalf of non-profits. At a forum at HMS in October, the foundation brought together experts from institutions including Harvard Medical School, the Massachusetts Institute of Technology and consultancies including McKinsey & Co. and The Bridgespan Group, to design new solutions.
 "We have a protocol to our Labs, but we never truly know where our process will take us," said Leitner.
The group was able to identify that its goal wasn't to get the word out about mobile medicine, but to more effectively communicate what mobile health clinics are doing in their communities to benefit the entire health care system.
One concept to emerge was that the strong relationship Family Van has with their patients benefits the other Boston healthcare providers who work with them. Family Van has the ability to help people on a more personal level with behavior modifications over a long period of time, leading to a great improvement on their health.
Bennet said the relationships fostered in mobile health clinics can also reinforce primary care settings, where short visits limit the ability to understand other factors that may be preventing patients from successfully making changes to improve their health. Mobile health clinics and primary care providers should have the means to coordinate, Bennett said, to offer providers a more complete picture of a patients' health history. "It's a very ambitious goal," Bennet said.
Insight Lab organizers see a vast potential for mobile clinics have to grow, they said, providing not only cost savings but also a means to understand and expand the impact of relational medicine as no other part of the healthcare system can.
"If the systems in the medical field understand that medicine is more effective in a relationship between a caregiver and a patient," Leitner said, "they will embrace it as a challenge they face and be more willing to utilize mobile medicine to its fullest."
The federal government estimates that more than 50 million Americans live in medically underserved communities. A solution, however, could be parked right down the street.
About the Family Van
Traveling throughout Boston, and incorporating the services of some of the best medical facilities in the country, is Family Van, which carries teams of health professionals, educators, and counselors.
The Family Van serves communities with high rates of preventable diseases and hospitalizations by offering mobile healthcare services. By going where help is most needed, Family Van bridges a gap in health and social services by providing accessible, affordable curbside care, proponents said.
"We have the luxury of having more time to develop a relationships with our clients," Bennet said. "They are able to share a bit more of their lives with us, giving us the ability to address the social determinants of health."
The Family Van has many clients who come back every week, receiving the support they need to accomplish difficult behavioral changes needed to improve their health
The van "has become a place where people come knowing they can ask questions and get support to make life changes," Bennet said. "We know that the combination of this support and the ability to spend 10 minutes educating them over a period of weeks or months has been proven to create lifestyle changes."
There are more than 2,000 mobile clinics across the United States, offering key services to more than 7 million people each year.
In Boston, the Family Van is continuing to expand its services, Bennet said. A new, youth service is planned for Roxbury, intended to prevent and guide teens through problems with obesity, sexual activity and asthma. Empowering teens to discuss their own health concerns can help prevent problems before they arise in adulthood, Bennet said.
Follow
HMS
Stay informed via email on the latest news, research, and media from Harvard Medical School.