News
Science tells us ecosystems thrive when populated by diverse organisms. This principle holds for the human gut, agriculture and business. As social creatures, humans also thrive on collaboration and the benefits of diverse points of view.
This theme of diversity and inclusion formed the backbone of the 2012-2013 Howard, Dorsey, Still Lecture, "The Importance of Diversity and Inclusion in the Life Sciences." Susan R. Windham-Bannister spoke to a full house in Gordon Hall's Waterhouse Room as she delivered this year's lecture at the Diversity Awards Ceremony on April 10.
"Inclusion is not just a 'feel good, do good' decision anymore; it's an imperative business decision," said Windham-Bannister, President and CEO, Massachusetts Life Sciences Center (MLSC), a quasi-public organization that administers a 10-year $1 billion initiative enacted by the Massachusetts state legislature in 2008.
The annual Howard, Dorsey, Still Lecture is named for the first three African Americans to graduate from Harvard Medical School—Edwin Howard and Thomas Dorsey, both HMS Class of 1869, and James Still, HMS Class of 1871.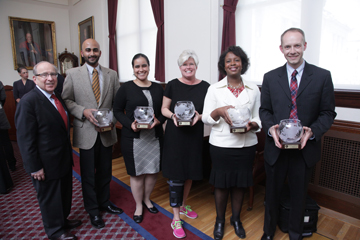 Windham-Bannister recounted her history of growing up in a segregated St. Louis, and how she can still observe today the persistent underrepresentation of women and people of color in the life sciences.
A tireless promoter of inclusion, Windham-Bannister said she "will keep beating this drum." She talked about the importance of supporting and nurturing underrepresented populations in the life sciences and in STEM (science, technology, engineering and mathematics) education.  For the U.S. to maintain a competitive advantage in science, it needs the contributions and "combined brainpower of everyone," she added.
The organization Windham-Bannister heads makes a point of giving grants to "programs that seek to diversify the STEM pipeline."
To those who say that there are no women or people of color who are entrepreneurs, Windham-Bannister said, "Rubbish. We are funding them."
In Massachusetts, life sciences are a "so-called innovation sector," and as such, research in these areas is being funded by government and private donors. To support the sector's growth, MLSC is funding programs to advance not only those recipients on tenure-track academic career paths, but also those who pursue training in health care support careers at community colleges and technical and vocational schools.
 "The inclusion of all talent drives excellence, and we want to support world-class talent wherever we find it," Windham-Bannister said.
Following Windham-Bannister's talk, Joan Reede, HMS Dean for Diversity and Community Partnership, introduced advisory committee chair Winfred Williams, Jr., director of interventional nephrology for transplantation at Massachusetts General Hospital, who presented the Diversity Awards.
The Harold Amos Faculty Diversity Award and the Sharon P. Clayborne Staff Diversity Award are presented annually to Harvard Medical School and Harvard School of Dental Medicine faculty and staff who have made significant contributions toward making HMS/HSDM a diverse and inclusive community.
The 2012-2013 Faculty Diversity Award honorees are:
Christopher AhnAllen
Instructor in Psychiatry, VA Boston Healthcare System
Nicte Mejia
Assistant Professor of Neurology, Massachusetts General Hospital
Romesh Nalliah
Instructor in Restorative Dentistry and Biomaterials Sciences, HSDM
Valerie Ward
Assistant Professor of Radiology, Boston Children's Hospital
Catherine Lane, Assistant Dean of Clinical Operations, HSDM, received this year's Staff Diversity Award.
Follow
HMS
Stay informed via email on the latest news, research, and media from Harvard Medical School.