News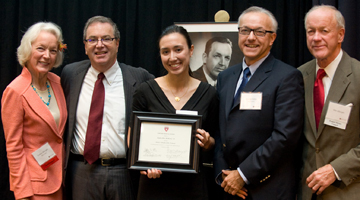 When she was a first-year medical student, Sophia McKinley thought she was "too nice" be a surgeon.  Surgeons were mean, cynical and pessimistic, she believed.
Now a fourth-year student at Harvard Medical School, McKinley is applying to residency programs in general surgery, her ideas about the specialty transformed by her yearlong experience with the Cambridge Integrated Clerkship.
It was there that McKinley learned that a physician with a scalpel can provide healing and compassion to patients beyond just one day in the operating room, through long and meaningful relationships.
"At the heart of surgery is the care of the patient," McKinley told more than 100 people gathered on Oct. 16 in the Joseph B. Martin Conference Center to attend the Hollis L. Albright, MD '31, Symposium.
"Surgery's true nature is a merciful and compassionate endeavor. I dream of a future in which more students at Harvard enter surgery because they are compassionate," McKinley said.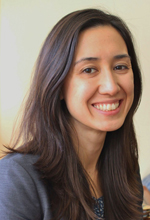 McKinley was honored with the 2013 Hollis L. Albright M.D. '31 Scholar Award for her achievements in neuroscience research as well as her community service work as an HIV counselor and a volunteer in homeless shelters.
To acquire tools to assess and improve surgical training of medical students, McKinley also completed a master of education degree at the Harvard Graduate School of Education after her third year at HMS.
Captain of the women's cycling team while an undergraduate at Harvard College, McKinley now runs half-marathons and has hiked hundreds of back-country miles.
Tenley Albright, lecturer on surgery at Beth Israel Deaconess Medical Center, warmly praised McKinley before summing up the world of medicine the young award winner is entering, describing it as "a difficult, challenging time in health care while we try to figure things out, but an inspiring time of scientific discovery in the life sciences."
Tenley Albright—an Olympic gold medalist in figure skating—and her brother, Nile Albright —himself a champion speed skater before also becoming a surgeon—fondly recalled how their father encouraged them to follow him into the field of surgery. Nile Albright mused about his father's pioneering innovations in vascular surgery combined with his gentle bedside manner.
Jeffery S. Flier, Dean of the Faculty of Medicine, described how the medical school is maintaining the School's leadership in medical education and biomedical research, citing ongoing efforts to rethink the medical curriculum in a changing world, to bring together the best and brightest scientific minds to advance scientific knowledge, and to serve the world through health initiatives around the globe as well as with primary-care innovations at home.
"We intend to keep this school as strong as it can possibly be," said Flier, who is also HMS Caroline Shields Walker Professor of Medicine.
The evening's keynote speakers highlighted the research questions they are striving to answer to create a better future. Lewis Cantley, HMS visiting professor of medicine at Beth Israel Deaconess Medical Center and director of the Cancer Center at Weill Cornell Medical College and New York-Presbyterian Hospital, explored the connection between cancer and sugar.
Peter Sorger, HMS Otto Krayer Professor of Systems Pharmacology and director of the newly formed Harvard Program in Therapeutic Science (known as HiTS), explained how computation might improve cancer therapy.
Cantley, whose lab discovered the PI3-Kinase (PI3-K) pathway, began his talk by tracing the enzyme's role in insulin signaling and cancer. Obesity, insulin resistance and type 2 diabetes—and mutations in PI3-K and its brake PTEN—are correlated with increased risk and progression of certain cancers, including breast, endometrial, colorectal, renal and pancreatic cancers. These cancers also have sky-high levels of receptors for hormones typically found in insulin-resistant patients. That association suggests that these hormones could be driving tumor growth, he said.
Metformin, a drug widely prescribed to treat diabetes because it lowers both blood glucose and insulin, is known to cause an approximately 25 percent reduction in cancer deaths compared to drugs that lower blood glucose but raise insulin, according to retrospective studies, Cantley said.
"Maybe one of our very best drugs for cancer is metformin," he said.
Stepping back, Cantley asked what has caused the dual epidemics of obesity and diabetes in the U.S. over the last 50 years.
"It's all about fructose," he said, blaming a a component of sweeteners derived from corn.
Instead of fueling our activities, fructose heads straight for fat storage, perhaps as an evolutionary adaptation against famine. High-fructose corn syrup has become a standard ingredient in processed foods since the early 1960s, Cantley pointed out.
"If we quit eating fructose, if we quit getting insulin resistance, our insulin resistance won't go so high, we won't get obese and we won't get cancer," he said. "So my message is, stay off the fructose," he said.
After Cantley's talk, Sorger embarked on a tour that moved from a pictorial representation of biology to a computational view. His example was the dose­‑response model, the subject of a recent paper in Nature Chemical Biology that challenged the reigning dogma in drug development.
Sorger's lab teased out an effectiveness curve that differed markedly from the traditional sigmoidal shape. The quantitative model revealed insights unavailable before, sparking further investigations in the lab.
"We use computation as a means to organize a disparate literature, in this case variation in drug response from one cell to the next," Sorger said.
"What biology is going to look more like in the future is a computer program. This brings you much greater manipulability and much greater clarity," he said.
Sorger suggested that such computational analysis might help explain why half of drugs tested in clinical trials are abandoned because they don't work. There is also an urgent need for failure analysis in drug development, he said, describing a practice common in other industries but, according to Sorger, absent for the most part in pharmaceutical and biotech businesses.
There are lessons to be learned from what goes wrong, he said, to ensure that the same mistakes are not repeated. The new HiTS program, he said, will shine a light on such approaches.
"We're going to work on failure," Sorger said.
Follow
HMS
Stay informed via email on the latest news, research, and media from Harvard Medical School.