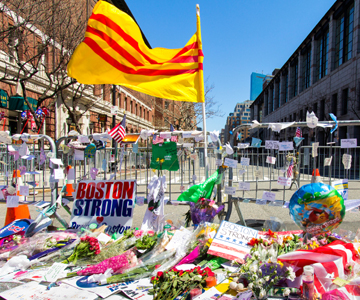 "I was in the hospital when it happened. I was in my office and I received a number of emails from friends and family checking to see if I was OK."
Zara Cooper, HMS assistant professor of surgery at Brigham and Women's Hospital, received word of the bombings at the Boston Marathon on Apr. 15, 2013, as did thousands of others in Massachusetts that day, from worried loved ones. For Cooper, an acute care and trauma surgeon, the bombings were a call to duty, one that ended up lasting for hours and even days afterward.
"I kind of flew out of my office and said, 'Where is everybody?'" Cooper recalled in an interview as the first anniversary of the bombings approached. 
Three people were killed in the 2:49 p.m. attack that day and more than 260 were injured. Scores of those wounded were rushed to Brigham and Women's and to other HMS affiliates, including Beth Israel Deaconess Medical Center, Boston Children's Hospital, and Massachusetts General Hospital. In the days that followed, many received specialized care at Massachusetts Eye and Ear, McLean Hospital and Spaulding Rehabilitation Hospital.
(Click for information on anniversary events in HMS communities.)
Efficient triage efforts employed by Boston's emergency medical services ensured that the hospitals received nearly equal numbers of patients. In short order, 40 victims arrived at Brigham and Women's, nine requiring emergency surgery.  
For Cooper, it was time to get to work, even as she worried about the whereabouts of her then 3-year-old daughter, who had gone with a nanny to watch the race. She was also concerned about her husband, who had just taken a flight to Los Angeles for business. Assured within minutes that family and nanny were safe, Cooper and her team began attending to the second marathon patient brought into the hospital's trauma unit.
"I took one of the gentlemen who had part of a pressure cooker in his leg," Cooper said.
A year later, the day, which for Cooper had begun at 6 a.m. and didn't end until nearly midnight, seems "kind of like a blur." But what she remembers clearly is that the work done by the EMS teams that brought patients to the hospital was so outstanding.
"The situation in the emergency department was never as overwhelming as it could have been."
Instead, crowd control was needed because so many of the hospital's medical personnel rushed to help.  "It was a matter of constant communication and feedback," said Cooper. "There was a tremendous amount of coordination."
Handling the influx of emergency patients was a situation for which hospital personnel had prepared in drills. What was unsettling, Cooper said, was the unusual, heightened security activity—the military tanks and SWAT teams that descended upon the area.
"A lot of the [security] chaos around the hospital was kind of difficult to deal with," she said.
Cooper and her team, however, performed as they have been trained to do, as did hundreds of others at HMS affiliates and other Boston hospitals.
"It's tragic that three people died. It's also remarkable that only three people died," said Cooper. She attributes the low mortality rate to the superior level of preparation, skill and professionalism that exists within Boston's medical community.
A year later, reflecting on the tragedy and the city's response to it, Cooper said what was extraordinary was how quickly and well all the medical teams reacted. "Just how reflexive it all was," she said. "You just do what you have to do. It was incredibly inspiring."
"I'm very proud of the work we did and how we all pulled together, and the level of dedication I saw," she said. "It was an outstanding job."
This year, Cooper will again be working in the hospital on Apr. 15, but she plans to observe the anniversary after work by spending time quietly with her husband and daughter, "Being grateful that we can be together.
 "You need to be grateful that this is something we don't see that often. Grateful it doesn't happen a lot, and that fewer people were hurt than could have been," she said.  "We need to be grateful for what we do have."
Running on Thin Ice
Leslie Morse, HMS assistant professor of physical medicine and rehabilitation and an associate director of research at Spaulding, studies osteoporosis and musculoskeletal medicine. On Marathon Monday 2013, however, Morse was volunteering in the medical tent at the finish line and attending to wheelchair racers, some of whom were dehydrated.
"I was hanging a bag of saline when the first bomb went off. We had no idea what it was," Morse said.
All the physicians in the tent were instructed to ask patients with minimal complaints who could walk to move out of the tent in order to make room for the blast victims.
"The first person came in a wheelchair, with singed clothing and burns," Morse recalled.
Even as she and her fellow volunteers began to help the wounded, an announcement called all physicians immediately to the finish line. Morse and others ran to help, although they still had no idea what had happened or what they might find when they arrived.
Morse said she knew that something bad had happened, but added that few were prepared for what they encountered.
"Seeing the devastation. I think there are very few people outside of the military who would be used to seeing that," she said. "There was smoke and the smell of blood, and chaos," recalled Morse, who said she felt an overwhelming sense of danger.
"I had the feeling I was running on thin ice … and yet you knew there were people who had been severely injured and were in great need of help."
Later, Morse's husband expressed concern that she had rushed into such a dangerous situation, but she told him she knew he would have responded in the same way.
"I saw a lot of people running away, and that's not an instinct that I have," Morse said.
Many physicians began to administer emergency first aid, trying to stabilize patients, stop their bleeding and get them back to the medical tent, which had become, essentially, a mobile field hospital.
"We were all just trying to find someone who was not being directly helped and help them," she said.
Morse said that afterward it took her some time to process the very difficult experience.
"I felt more than anything that I was a standing witness to this horrible cruelty. It was overwhelming," she said.  "As a physician, you spend your life trying to help people, and then to see so much suffering and loss of life. I would have given anything not to have witnessed it."
On this year's anniversary, however, Morse will be volunteering for a third year in a marathon medical tent, there again if needed to help the wheelchair racers.
"I don't think it was ever a question of not returning," she said.
It will be a somber anniversary for her, not an occasion to be commemorated but something to heal from and move beyond, she said. According to Morse, the experience triggered profound grief. She described it as similar to losing a very close family member.
Still, she echoed the sentiments of many saying she feels grateful that so many people were saved.
"I think the survivors of the marathon bombings are tremendously fortunate that they were in a place like Boston. People survived because some of the best doctors, surgeons and hospitals were standing by ready to help them," she said.
Full Disaster Status
Ann Prestipino, HMS teaching associate in anaesthesia and senior vice president for surgical, anesthesia and emergency services at Massachusetts General,  was in her office when she got a call from the hospital's chief nurse, who had taken the Patriot's Day holiday off to attend the Red Sox game and to catch the end of the marathon.
"She called and said, 'Something is going on. I'm not sure what, but something bad is happening and I'm coming back in to the hospital,'" Prestipino recalled.
Almost simultaneously, Prestipino began receiving similar calls with the same ominous message. Thanks to years of careful planning, she and other hospital officials knew exactly what they needed to do. Prestipino became incident commander, in charge of coordinating the hospital's emergency response.
"I said, 'Let's turn on full disaster status.' I didn't know what we were dealing with, but it sounded bad."
Prestipino's job involves responding to major emergencies and she immediately took steps to ensure that the hospital was doing everything it could to prepare for the victims. An MGH veteran who has worked at the hospital for more than 30 years, she said she knew automatically what needed to be done. 
"One part of my brain was horrified that anything bad was happening at the marathon, and that this could happen in our city, " Prestipino said. But she also remembers feeling the need to check her emotions at the door. "Someone needed to be calm and exert leadership," she said.
Very quickly, years of careful disaster response planning fell into place as Mass General teams made room for the 39 patients brought in that day, 12 of whom were eventually admitted. The first victim arrived at 3:04 p.m., only 15 minutes after the initial explosion.
At the time of the blasts, 97 people were in the Mass General Emergency Department. Prestipino said dozens of Department of Medicine staffers rushed to help move non-critical patients into other wards to make room for the influx of marathon victims. 
In addition to ensuring there was space for the victims, there were a host of other issues to be addressed: patients had to be identified; relatives had to be located and families reunited. Security issues had to be managed and law enforcement accommodated. There was also a pressing need to coordinate communications between teams and with the news media, all the while ensuring that medical personnel had all the resources necessary to make sure the victims had the very best chance at survival.
"It was amazingly efficient," Prestipino said. "Everybody knew how it was supposed to work."
This year, she will be working on Apr. 15 and on Marathon Monday. Like others who found themselves near the center of the disaster, Prestipino said she continues to look for the positives and has tried to stay optimistic as she looks ahead to the anniversary.
"I think for me it's also going to be amazing pride and thanks that we have the resources in our city that we do. When the worst happened, we were ready," she said.
She added that many of the patients have kept in touch with hospital staffers and that they continue to provide a source of inspiration.
"I think, really, the bravery of the patients has just been incredibly rewarding. To see how courageous they have been has helped me tremendously," she said.
Chaotic Scene
Paul Appleton, HMS instructor in orthopedic surgery at Beth Israel Deaconess Medical Center, had Marathon Monday off in 2013. He was cleaning his garage in Cohasset when he heard about the bombings on the news.  
"I just started driving in to the hospital, assuming the worst," he said.
What he found on arrival was, in his words, intense – a  hospital on lockdown and a "pretty chaotic scene." 
Appleton went directly to the operating room floor where dozens of his colleagues were gathering—orthopedic surgeons, nurses, x-ray technicians, anesthesiologists, each of whom had done what he had done: dropped everything to report for duty. Teams mobilized quickly, and the hospital went from having two operating rooms in use to having 10 up and running within about 30 minutes, he said.
Even with teams and procedures in place, it proved to be difficult to identify the victims as they were brought in. The sheer volume of patients arriving all at once tested the seasoned medical teams. Without names to go with the faces, the teams had to identify patients by their injuries while other hospital personnel worked on locating family members.
"The hardest part was trying to figure out who the people were, and keeping their injuries straight," Appleton said.
The aftermath continued for weeks as patients returned for multiple follow-up operations.
"It wasn't so easy, the first couple of weeks, trying to explain to them why their leg was gone," he said.
Appleton will be on call again for this year's marathon, but just before the Apr. 15 anniversary he plans to spend time with two patients who are married and who each lost a leg in the attacks.
"It's been nice to watch these guys get better," Appleton said.
We Were Very Lucky
When the bombings occurred, David P. Mooney, HMS associate professor of surgery at Boston Children's Hospital had just completed an operation on a boy who had fallen through a window.
"My wife called to tell me there'd been a bombing at the marathon. I thought I'd better head down to the ER," he said.
As soon as he arrived he realized the hospital was facing a mass casualty event.
"It was controlled chaos, sort of as expected," he said. 
Immediately, Mooney began prioritizing patients as they came in. Boston Children's personnel began to respond as they had been trained to do in drills designed for just this kind of emergency.
The young patients transported to Boston Children's were suffering from shrapnel wound injuries and one had already lost a limb, Mooney said, but looking back, he believes everyone was extremely lucky because a number of unusual circumstances coincided that day. The bombings occurred on a holiday, when the emergency department and operating rooms were not exceptionally busy, and the attack happened during shift change, when both day and evening personnel were on hand to respond. It also helped that the hospital is located only minutes from the bombing scene, where ambulances were already on stand-by to help injured runners.
 "We were fine," he said.
Mooney said Children's will sometimes treat 30 to 40 injured children in a day, and it is well prepared to handle most emergencies. What was more unusual in this instance, he said, was the surreal atmosphere surrounding the hospital, where armed soldiers were guarding the building with automatic weapons.
"It was almost like being plucked out of your normal existence and dropped into this one," said Mooney. He handled the situation, he said, by concentrating on the tasks at hand.
"I think people were amazing. I was proud how people responded that day," he said.
Inspired by the outpouring of community support for the children who were injured in the bombings, Mooney and Maria McMahon, the Children's Trauma Center manager, decided to run this year's race. They are running to raise funds to support the families of injured children who are brought to the hospital each day.
"We see a lot of pretty badly hurt kids who don't receive any support," he said. 
Mooney and McMahon created the Children's Trauma Recovery Fund and have so far raised $15,000 that will be used to assist young patients and their families. Already they have provided funds for the purchase of exercise equipment for a boy who was paralyzed in a car accident. 
This will be Mooney's third marathon. He knows there will be pain, but all for a good cause.
"It's going to be a great day," he said. "I feel like I can't not do it."
A Privilege and an Honor
After many of the victims underwent surgery and were stabilized, there was time to attend to the hearing loss caused by the bomb blasts. The eardrums of some victims had been ruptured by the concussions from the blasts; other victims had sensory-neural hearing loss. 
Alicia Quesnel, HMS instructor in otology and laryngology at Massachusetts Eye and Ear, was called to Mass General the day after the attacks to care for those patients with significant acoustic trauma. Many of people she treated were coping with multiple medical injuries, from burns to lost limbs. 
"It just seemed like an incredible tragedy to see these innocent patients and what they were going through, and what their families were going through," she said.
Quesnel estimates that 30 to 40 of the marathon patients continue to be treated at various institutions for the hearing loss associated with the blasts. Many will continue to need long-term care and hearing assessments; some of the injuries carry the potential for progressive hearing loss. Amazingly, she said, multiple patients are planning to run this year's marathon, a decision Quesnel describes as very inspiring.
The optimism of the patients, Quesnel said, is what makes her work feel worthwhile.
 "There's clearly progress every time you see them," she said. "That's an amazing thing to see."
"It really is just an absolute privilege and honor to take care of these patients," she said.
A Resilient Community
A McLean Hospital advanced practice nurse, Christine Tebaldi is the Red Cross of Massachusetts lead and state advisor for disaster mental health initiatives, working with HMS physician Jeffrey Brown, assistant professor of psychology in the Department of Psychiatry, who is heading up mental health initiatives at the marathon.   
In collaboration with the BAA, a large Red Cross team of about 400 volunteers will be at 22 medical stations along the course, Tebaldi said. Joining efforts with the BAA and Disaster Response Network, Red Cross mental health volunteers will be there to provide psychological support to runners, medical team members and the community at large.
Tebaldi calls it "enhanced psychological first aid." She said last year the Red Cross disaster mental health team had supportive contacts with approximately1,300 people who were in need of mental health services and assistance following the bombings.
"We were seeing people with increased anxiety, and difficulty sleeping and eating," Tebaldi said. As the weeks wore on, the referrals and contacts became more complex.
"The people who were closer to the event had higher rates of having more issues," she said.
Tebaldi said she's confident all will go well this year. 
"I've just been so impressed at how future-focused and resilient our community is," she said.