News
Construction Begins on Clinical Skills Center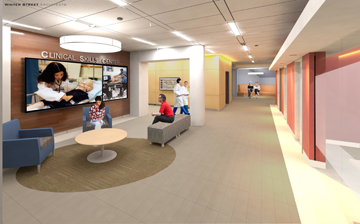 Construction of a new multifunctional clinical skills center is beginning in the Tosteson Medical Education Center (TMEC) this month. The renovations, which will provide HMS faculty and students with some of the latest in teaching technology,will limit access to the first floor of the building for the duration of the project.
While construction is under way, the entrance at 260 Longwood Avenue will be open. Construction is not expected to interfere with access to the Quad parking garage or to Gordon Hall via Building C, according to Jane Neill, associate dean for medical education planning and administration.
The new center will replace and consolidate current spaces used for clinical examinations, patient simulation and task training.
"The first purpose of the space is to conduct the Objective Structured Clinical Exams," said Neill. "For the past 10 years, we've been running station-based clinical exams for our students, one in the second year and one at the end of the third year, using portable exam tables, and we have had a makeshift process for moving students through the exams."
The new 5,500-square-foot facility will include 18 exam rooms, 10 with movable walls that will double as patient-simulation rooms, a faculty "touchdown" space that will function as a business center, and several orientation rooms.
During exams, students typically spend about 15 minutes at each patient exam station and are evaluated by the patient or by a faculty member in the room or outside observing through one-way glass.
Centrally located control rooms in the new center will house display screens hooked up to video cameras in the exam rooms so faculty members can record and review the patient-student encounters.
"That's a feature we currently don't have and it will improve our ability both to teach students and to evaluate them and give them feedback," said Neill. "In addition, outside the exam rooms are computers where students can log in to read a case before going in the room to greet their patient, and there are observation stations outside each room for faculty members."
Neill also noted that when orientation rooms are not in use, they will provide much-needed classroom or meeting space.
"This new facility will provide the kind of technology and adaptability that modern medicine demands to teach students the latest in clinical care," said Neill.
"One of the really exciting things for everyone, not just those who use the clinical skills center, is that the entrance to TMEC from the C-link is going to be dramatically improved," said Neill.
Follow
HMS
Stay informed via email on the latest news, research, and media from Harvard Medical School.